Disk of 2021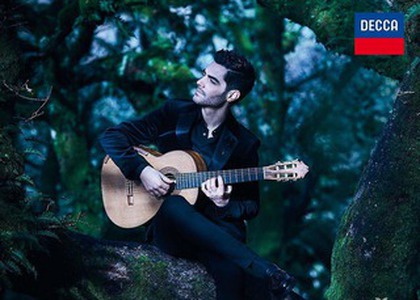 Guitarist Milos Karadaglic - album 'The moon and the forest'
The guitarist from Montenegro, Milos Karadaglic released his newest disc on April 30th: The Moon and the forest - The Moon and the forest, at Decca house.
It is the sixth author's album by the 38-year-old guitarist, released in 10 years of collaboration with the famous London house, from the city where he himself is established. The previous five albums enjoyed a huge success with the public and critics, consolidating his image as a guitarist-star of the moment, which is imposed both by his brilliant technique and by his musical sensitivity and inventiveness.
On this sixth album - The Moon and the Forest, Milos Karadaglic proposes two concerts recorded for the first time, composed for him by two very well-known contemporary composers. The first is 49-year-old British composer Joby Talbot, known for his many multidisciplinary productions - from ballet music to stage music, opera and film music - a close collaborator on many successful BBC productions.
In 2018, during the BBC Proms festival, Milos Karadaglic performed for the first time the concert "Ink Dark Moon" for guitar and orchestra by Joby Talbot, a work recorded in January 2019, now presents the album released on April 30th, 2021.
On the same record, another world premiere concert, written especially for Milos Karadaglic, "The Forest" by Howard Shore. Yes, that Howard Shore who wrote the soundtrack for the "Lord of the Rings" and "The Hobbit" trilogy, a remarkably successful Canadian composer who also proves to be a formidable author of concert works - as you will notice while listening to The Forest. by Milos KAradaglic and National Arts Center Orchestra, conductor Alexander Shelley in May 2019, in London.
A great guitarist, who has gained a lot in terms of the maturity of the performance, while retaining its brilliance and spectacle; two contemporary works that value the experience of composer of stage music and film of the authors, two valuable works that can have an impact on a wide audience and a sensitive interpretation, with many colors, in accordance with the theme of the opposites approached. In addition, Dreaming from the Children's Scene Suite by Robert Schumann and a play by LudovicoEinaudi. A delight!
Cristina Comandașu