Disk of 2021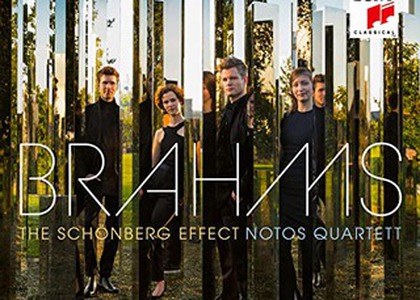 'Notos' Quartet- 'The Schonberg Effect' album- Music Box, May 31st, 2021
On this album: Piano Quartet no. 1 and Brahms's Third Symphony, in a transcription for piano quartet by Andreas Tarkmann. A surprising audition in many ways: at least for me, the discovery of an ensemble of chamber music in outstanding quality, but also an off-the-chain repertoire, as is this lovely combination made for the Brahm's Third Symphony.The recordings were made in April 2020 by DeutschlandfunkKultur and highlight the qualities of this chamber music group founded in 2007, multiple prize-winning in international competitions, and the discographic industry - an Echo award obtained in 2017.
For sure, there is also a direct connection between the songs on the album: because for the Piano Quartet op. 25 there is a transcription for orchestra made by Arnold Schonberg. This first piano quartet by Brahms - a disturbing audition in a score by the young Brahms, inspired by Clara Schumann, a score whose quality made the violinist Joseph Hellmerberger exclaim about Brahms: "this is Beethoven's heir!"
"A fantastic ensemble" are the words with which Zubin Mehta described the Notos Quartet - indeed, an ensemble that seems to seep directly into the essence of music and take you away, to take you far: cohesion, musicality, emotion, mastery of details, impetuousness - it's hard to define this cocktail that makes their music so lively and full of light.
On their first album, released in 2017, the musicians from the Notos Quartet have chosen works less sung by Hungarian composers: Dohnanyi, Kodaly, and Bartok. Currently, on this second album there is: Brahms, but with the shade of a new opening in this transcription for the piano with a quartet of the famous third symphony. "To make a good quality arrangement," tells Andreas Tarkmann, the author of the transcript, "you have to know the composer's style in detail and, above all, not look like an arrangement." Easy to say, hard to do; Nonetheless, it's a win for Andreas Tarkmann and those who listen to this disk because it simply opens another window to the audition of Brahms's Third Symphony, as valuable as the original.
Cristina Comandașu