Disk of 2021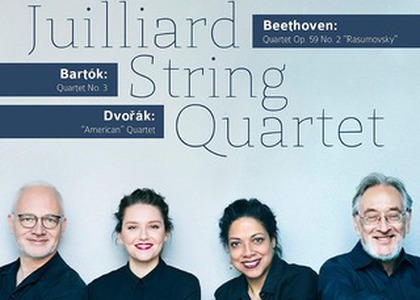 Juilliard Quartet – 75 years of existence – Music box 21st of June 2021
In 2021, the Juilliard Quartet celebrates its 75th year anniversary - this is one of the most famous, long-lived, and talented string quartets in the world, oftentimes referred to as the best american quartet of all times.

This ensemble that started recording for Sony Music in 1949, celebrated its long 75-year history by releasing a new disc with representative repertoire choice, consisting of pieces such as Beethoven's, Bartok's and Dvorak's quartets, and issued by the same Sony Music record label.The Quartet's stupendous activity is marked by 5 Grammy awards, one of which is a Grammy Lifetime Achievement Award, won in 2011, and the release of more than 100 albums.

At present, the Juilliard Quartet consists of violinists Areta Zhulla and Ronald Copes, violist Roger Tapping and cellist Astrid Schween, all of them working as professors at the Juilliard School of Music in New York. Ever since it was founded in 1946, the Juilliard Quartet has been working under the umbrella of this institution.

Areta Zhulla is the first violinist of the Juilliard String Quartet since 2018 - and what you will be listening to today is the first disc recorded by the current ensemble.

In the Quartet's discography we'll find the Complete String Quartets of Beethoven. In 1985 the ensemble won a Grammy for The Late String Quartets of Beethoven, opuses 127 to 135.

So it's understandable why the current members of the Juilliard Quartet chose Beethoven pieces for their anniversary disc. On this album we'll find a thoroughly studied and well performed version of Beethoven String Quartet opus 59 No. 2 Razumovski, along with the String Quartet opus 96 (the American Quartet) by Antonin Dvorak. Why? Because Antonin Dvorak and Juilliard School of Music, the institution that has the ensemble working under its umbrella, are directly tied. The 1894 debut of the String Quartet opus 96 (the American Quartet) by Antonin Dvorak happened in Boston, and was interpreted by the Kneisel Quartet. Ten years later, violinist Franz Kneisel became the first head of the violin department within the Institute of Musical Art in New York, later known as Juilliard School of Music.

The Juilliard Quartet offers a rendering of Antonin Dvorak's American Quartet that is focused on technical and stylistic accuracy; a version to which I would have added more life and emotion.
Cristina Comandașu