Disk of 2021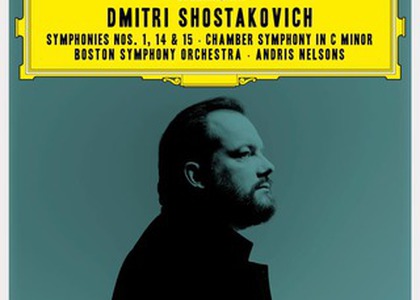 Integral Dmitri Shostakovich with the Boston Symphony Orchestra, conductor Andris Nelsons - Music box, June 28th and July 5th, 2021
On June 25th, 2021, a new album was released from the series dedicated by conductor Andris Nelsons and the Boston Symphony Orchestra to the complete symphonies by Dmitri Shostakovich - an extraordinary collection published starting since 2015. 4 albums appeared in this series and 3 of them received Grammy Awards - which is a performance in itself.

On the album released on June 25th we find Symphonies 1, 14, 15 and Chamber Symphony in C minor. We have, therefore, the first and last of the symphonies signed by Dmitri Shostakovich.

Why did Shostakovich's symphonies, performed by the Boston Symphony Orchestra, conducted by Andris Nelsons, receive so many awards? (The Grammy Awards are just a few, along with many others, just as prestigious, obtained in Europe). For the exceptional quality of the interpretation, but also for the idea of ​​recording an integral of the symphonies for one of the most well-known and yet, enigmatic composers of the 20th century.

The orchestra sounds fantastic, the ideas are clear and admirably drawn, and the conductor adds that feeling and emotion that he knows from his own life story, but also from the music education on the Russian seam.

Shostakovich was 19 years old when he completed his first symphony, it was his graduation paper at the Petrograd Conservatory. A symphony in 4 parts, which surprises through maturity and modernity.

We can look at Symphony no. 15 as a symphonic testament left by Dmitri Shostakovich. The work was completed in the summer of 1971, when Shostakovich underwent medical treatment for polio and his physical strength began to weaken; in fact, the premiere for his work had to be postponed from the autumn of 1971 until January 8, 1972 - Shostakovich suffering a second heart attack. Miraculously, he was able to attend the rehearsals and the premiere concert, Symphony no. 15 being presented under the baton of his son, Maxim Shostakovich. The composer was to die on August 9th, 1975; only a few opposites he managed to write until the end of his life after Symphony no. 15: two string quartets, a few songs and a viola sonata.
For his latest symphony, Dmitri Shostakovich chooses to take a look at what his symphonic language has meant over time - and the work itself has been described by commentators as a description of man in front of death. We also have his ubiquitous humor, by quoting the famous theme from the overture of the opera "Wilhelm Tell" by Gioachino Rossini, also the great symphonic masses, but also the pianissimo moments of the blowers, which take your breath away. Shostakovich says goodbye to the world with a last part that is in a slow but not mortuary tempo - rather a serene attitude towards the unknown. Symphony no. 15 is a work of great depth,but also accessible to anyone who wants to open their heart and ears beyond everyday life.

And for this work, the Boston Symphony Orchestra and conductor Andris Nelsons propose an interpretation that goes to the essence of Shostakovich's score and philosophy, finding a perfect balance between extrovert and introvert, joking, philosophizing, finally, being human. Another performance that would deserve a Grammy Award for this American ensemble and its extraordinary Latvian conductor.
Cristina Comandașu