Disk of 2021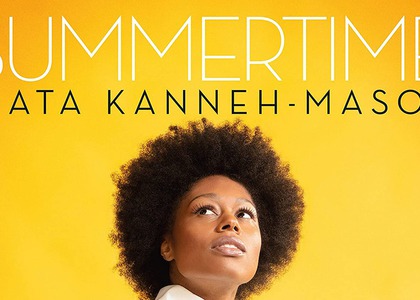 The Pianist Isata Kanneh Mason – selections on the "Summertime" album ; The Pianist Kit Armstrong – selections on "The visionaries of piano music" album – Music box, 19th of July, 2021
Summertime- an album released on the 9th of July, at the British Publishing House Decca, the one who published the first album of the pianist IsataKanneh Mason in 2019, got into the public eyes at the same time with the ascension of her brother, the violinist ShekuKanneh Mason, the one who played at Meghan Markle and prince Harry of Great Britain's wedding

On the second album of the 24-year old pianist, we find American music - based around the piano sonnet of Samuel Barbuer - where Gershwin, Earl Wild, Copland and Coleridge Taylor approach . It is a fresco of the American music of the first half of the 20th century, reuniting the different influences who crossed it and it is an occasion for the nowadays listeners to discover the music who was trending at the beginning of the 20th century, as the works of the composer Samuel Coleridge Taylor were once and today, they are basically unknown. IsataKanneh Mason recorded in a Mondial premiere the Impromptu nr. 2 in Si minor of this composer of color, born in 1875 in Great Britain, who enjoyed success considerably in the United States of America but, also three works of negro spirituals influence from the unusual repertory of Samuel Coleridge Taylor.
Summertime: an album in which we find the same emotional and dedicated pianist whom we have known since her first album containing works by Clara Schumann, released in 2019
*************************************************

On the 9th of July, the album "The visionaries of piano music", signed by the pianist Kit Armstrong was released at the Publishing House Deutsche Grammophon. An unusual album that suggests a novel repertory: renascent music during the period of Elizabethan England, signed by William Byrd and John Bull. Indeed, pioneers of the music of keyboard instruments - during that time, the virginal, but admirably piano-played by this 29-year old American pianist, born in a British-Taiwanese family.

Kim Armstrong suggests an incursion in the music of keyboard instruments from the English Renaissance that was, besides, barely known. For exemple, Parthenia is the first collection of poems published in England - it seems, in 1612, and which includes 21 work signed by William Byrd, John Bull and Orlando Gibbons.

Kim Armstrong - an interesting and fascinating character. He studied music at the Curtis Institute in Philadelphia, but, at the same time, he also studied both Mathematics and Chemistry at University of Pennsylvania. He is a pianist, but also a composer. He played on the very big stages of the world and has discs released at the Sony Publishing House, and now, the first at the Publishing House of Deutsche Grammophon. He is also remarked through his daintiness of interpretation, taste and elegance, elements that must be approached in the music of the 16th and 17th centuries, especially regarding the scores for the virginal and the harpsichord, now played on the piano. The ornamentation and the sense of this music keeps its original charm and the modern instrument used by Kit Armsrong on this disc, a reason for repertorial discoveries. For exemple, 30 variations by John Bull for the Walsingham theme.
Cristina Comandașu