Disk of 2021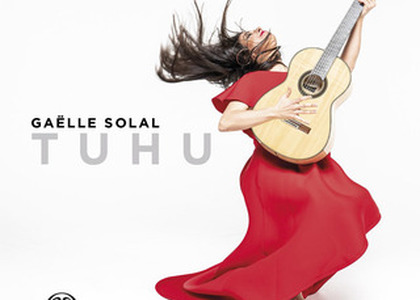 Guitarist GaŽlle Solal - selections from the album "Tuhu" - CD Review, July 6th , 2021
Another premiere on Radio Romania Musical - the album "Tuhu" by the French guitarist GaŽlle Solal. Released on December 4th , 2020 at Eudora's record label, the album is included in the "Records of the Year 2021" project.

A versatile musician, known for approaching a repertoire from Bach to The Beatles, GaŽlle Solal impresses us now with the album "Tuhu" - in translation, small flame, the nickname given by the composer Heitor Villa Lobos from his mother. The album's playlist opens with ... Tuhu, part 4 of the Suite composed by Roland Dyens - Tribute to Villa-Lobos. Compositions signed mainly by Heitor Villa Lobos, but also by Roland Dyens, as well as refined arrangements made by GaŽlle Solal can be found on the album that reflects the professional and life experience of the guitarist who has so far worked in France, Spain and Brazil.

A charming selection of plays, centered on the creation of Heitor Villa-Lobos and on the masterful arrangements made by GaŽlle Solal. The guitarist's virtuosity blends harmoniously with the expressiveness of the performance, the artist creating a multitude of colors and moods. It is also worth mentioning the perfect balance between the interpretation of the guitarist GaŽlle Solal and the sound quality of the Tuhu album.

I remind you that you can listen the discs presented in this show again on the project's site "Discs of the year 2021" from rom'niamuzical.ro
Florica Jalb"