Disk of 2021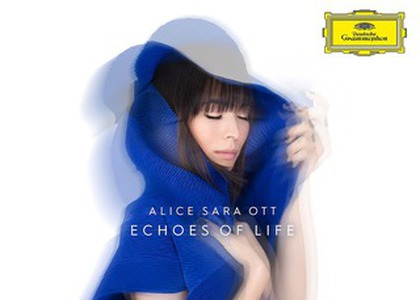 Pianist Alice Sara Ott – selections from the 'Echoes of life' album - Music box, 9th of August 2021
It is an album released on the 6th of August under the Deutsche Grammophon label, which i can only describe as breathtaking: pianist Alice Sara Ott's 'Echoes of life'.
I call it breathtaking because it makes us feel the echoes of a pianist's life, who turned 33 on august 1st but who also, two years ago, was diagnosed with multiple sclerosis. A brilliant pianist who basically described her life and the eternity to come through the music she put out since childhood.
This album moved me even more, as I met Alice Sara Ott in 2012, in Bucharest, when she held a recital on the anniversary of Radio Romania Music radio station. Alice Sara Ott is a total package pianist: she has a breathtaking technique and as someone coming from a German-Japanese family, she has the ability to simultaneously express the Asian reason and European sentimentalism. Every time I've seen her perform,she was just flamboyant and managed to bring the audience to its feet.
This marks the release of her tenth album under the Deutsche Grammophon label, and I wholeheartedly hope it's not her last. Echoes of life is built around the Chopin's Complete 24 Preludes opus 28 - an embodiment of Chopin's persona, the composer she holds so close to heart. If you listen closely, you'll notice Alice Sara Ott's interpretation of these preludes goes off script. Through nuances, tempo and level of touch, the pianist finds new ways of expression. By the end of her interpretation youțll be transfixed.
It is an extremely personal album of the German-Japanese pianist, who just turned 33, but who also suffers from multiple sclerosis, the disease that caused Jacqueline Du Pre, another famous musician, to leave the earth too soon. Through this album, Alice Sara Ott delivered a summary of her own life: she brought Chopin's preludes together with contemporary pieces, arguing for her choice. I have selected a few: In The Beginning Was by Francesco Tristano, Infant rebellion - the first piece from Gyorgy Ligeti's set Musica ricercata, No roadmap to adulthood, Chilly Gonzales' Prelude in C Sharp Major, and Lullaby to eternity by Alice Sara Ott herself on fragments of Mozart's "Lacrimosa".
Throughout her life, pianist Alice Sara Ott has experienced tragedy, but also peace. Life has given her victories others never get to experience, but it has also given her the hardship of an untreatable disease. Alice Sara Ott's interpretation transmitted such strong emotion and fragility, that, at least in my case, it brought tears to my eyes.
Cristina Comandașu