Disk of 2021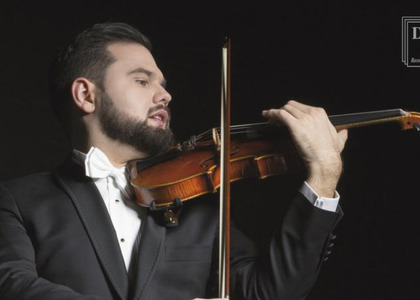 Marek Polanski, the violinist – "Duranowski album, Kaczkowski – first polish fastidiousness for violin"; Fabian Muller, the pianist – selection from the album "Passionato" – CD Review, 20th of July 2021
Fabian Müller's third album, one of the best-rated German pianists of his generation
In the first part of today's edition, I will be presenting you, in premier for Radio Romanian Musical, an album released by polish record label DUX, on the 29th of January. Called "Duranowski, Kaszkowski - first polish fastidiousness for violin", this represents the world-first recording of whims created by the two classic composers. an approached that is due to Marek Polanski, the polish violinist, musician who also realized and complex study on biography of the violinists and composers included into the disc
Born in the same year as Beethoven was, August Fryderyk Duranowski was one of the most important virtuosos of his time. Disciple of famous Giovanni Battista Viotti, Duranowski has pursued an important solo career, touring European great cities. His program included not only his solo violin creations, but also ones from composers like Viotti or Kreutzer. August Fryderyk Duranowski was appreciated by the press, but also the princely figures of the time, performing even at the court of Emperor Napoleon Bonaparte. Duranowski was an concert-master of some of the orchestra like the ones from Bruxelles, Kassel or Strasbourg - with which he stayed beside them until his death, in 1834. His impeccable technique and amazing interpretation had a strong impact on Niccolo Paganini, influencing his compositional style. From limited creation for violin and room music of Duranowski, considered a high level of technique and stylistically, Concert op. 8 in major LA and Six whims or Studies op 15 occupies a prominent place. Even though it was published during his life by editorials like Schott, Breitkopf & Härtel, Peters or Riccordi violon creation of the polish composer has been gradually forgotten, being brought to light only now.
Born in 1789, Joachim Kaczkowski launched in his interpretative career not until 1810, at Warsaw, beginning with his own creation - Concert for violin and orchestra op. 8 in la minor. A virtuoso violinist with an impressive schedule of concerts, composer and professor, Kaczkowski was indeed appreciated during his life. In his creation, also limited, but published in his days in big profiling editorials there are both dedicated opposites of violin, chamber music, also for piano - o collection of polishes, mazurci and waltzes. The creation for violon has received notable reviews in venetian press, and Chopin has described a Polish for piano like being a composition very good and very beautiful. Therefore, unfairly even Joachim Kaczkowski creations have been forgotten.
A commendable approach of the 35-year-old violinist, multi-award winning, with a rich interpretive activity, evolving as a soloist or as a member of some chamber ensembles or orchestras, but also with an intense pedagogical activity. A crystalclear sound, international accuracy, indeed a true exercise of technical bravery by Marek Polanski transpires from the interpretation in which the passages of virtuosity alternate with maximum lightness with trills and melodic passages. The album is included in Radio Romania Musical project "Discs of 2021" developed by româniamuzical.ro.
A new premier at Radio România Muzical - "Passionato", the album of the pianist Fabian Muller, launched by Berlin classics record label on 19 March 2021, containing creations signed by Schumann, Brahms, Beethoven and Wolfgang Rihm. It is the third album of 31 years old artist, considered one of the best quoted german pianist of his generation. An artist with an impressive agenda of concerts, on solo plan, but also in chamber music, whose name has already appeared on the poster of the famous Carnegie Hall in New York. However, Fabian Muller is a constant guest of Ruhr Piano Festival where, before pandemic, he used to share his music secrets to those over 300 kids that took part of educative activities of the festival.
An album recorded at the beginning of the pandemic, when the lockdown spectrum was floating around; an extra reason for Fabian Muller to approach with passionate passion his own creations, proving artistic maturity, through understanding the style of every and each compositor. As for Schaumann's sonataFabian Müller responded brilliantly to the demands of the score, which required an experienced performer. An interpretive variant for which Fabian Müller chose the original end of the score.
I remind you that you can find the discs presented in this show on the project page "Discs of the year 2021" on the website româniamuzical.ro
Florica Jalbã