Disk of 2021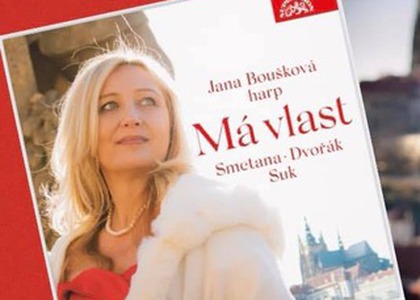 The harpist Jana Boušková- selection from the album "Mávlast" - CD Review, 17th of August 2021
The most recent album of the harpist Jana Boušková - "Mávlast" (My Homeland), released on 14th of May 2021 by the record label Supraphon and presented for the first time at Radio România Muzical; a tribute for natal Czech Republic belonging to the musician, an album with a huge emotional weight, containing arangements, mostly personal, of some of the creations written by Bedřich Smetana, Antonín Dvořák and Josef Suk.
With an impressing discography and an intense soloistic on stages like Musikverein (Viena), Carnegie Hall (New York) or Concertgebouw (Amsterdam), Jana Boušková dedicates herself to the professorship as well, as she is curently teaching at the Academy for the Arts of Performance in Praga and at the Royal College for Music in London.
We selected from this new album the cycle of symphonic poems "My Homeland" by Bedřich Smetana, an opus from which the sections Vyšehrad, Vltava şi Šárka were transposed for harp. The arrangement is by Hanuš Trneček and adapted by Jana Boušková.
An opus with an unique symbolism for Jana Boušková, as Vltava appeared in mostly all of her mother's concerts, the harp player Libuše Váchalová, the one who recorded for the first time this piece of work, for Supraphon as well, when she was at the same age her daughter is at the moment.
An album through which Jana Boušková pays homage to the national musical creation and, considering that the repertoire for harp as a solo instrument is quite small, it enriches it with personal arrangements and adaptations of well-known opuses written by Czech composers. Meticulously crafted scores, passages of virtuosity created by Jana Boušková to emphasise the harp's solo abilities; magnificent musical pages, with a highdegree of interpretive difficulty, remarkably played by the Czech musician.
The album "Mávlast" ("My Homeland") is included in the project"The Records of 2021", organized by Radio România Muzical.
Florica Jalbă