Disk of 2021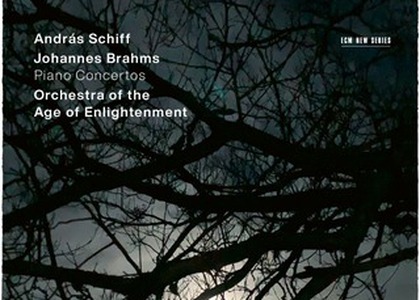 Andras Schiff and the Orchestra of the Age of Enlightment - Music box, August 16th, 2021
An album released by ECM record label on June 4th, out of the ordinary, and already noticed by international critics: the piano and orchestra concerts by Johannes Brahms, performed by Andras Schiff, soloist and conductor of the Orchestra of the Age of Enlightenment.
What strikes you from the beginning is the sonority of the piano: a refurbished 1859 Bluthner concert piano. If for baroque and classical music the interpretation on époque instruments is already something common, for the music of the romantic Brahms this approach is still unusual. Yes, it is true, in Brahms' times weren't used Steinway pianos, but Bosendorfer and Bluthner ones, and the orchestra with which Brahms premiered his symphonies was composed of no more than 50 people, or about half of what a symphony orchestra is today.
This leads to a sound we're not used to, which reveals a different Brahms than we usually perceive: serious, massive, imposing. I don't think all the attempts of recreating a historical interpretation are successful: in fact, it's obvious that a piano from 1859 sounds worse than one from 2021, and yes, it's true, the number of members of an orchestra had to be increased, since orchestras play in halls today even 10 times bigger than 200 years ago. So I wouldn't bet from the beginning on the surprise of this new sound that we're not used as being necessarily positive. I noticed, however, like the other international commentators, that the performance of Schiff and the Orchestra of the Age of Enlightenment swallows you; it's full of details, the musicians collaborate wonderfully - it's not easy to play a Brahms piano and orchestra concert without a conductor. We have transparency and light in these recordings in which dialogue is valued, not the antithesis between piano and orchestra.
Cristina Comandașu