Disk of 2021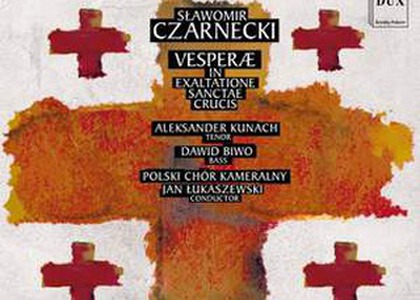 Selections from the album "Vesperae in exaltatione Sancte Crucis" - CD Review, August 15th, 2021
A special album - "Vespers of the Exaltation of the Holy Cross", a work signed by the contemporary Polish composer Sławomir Czarnecki, whose first audition took place exactly three years ago, at the Festival "Holy Nights" in Krakow. It is Czarnecki's 50th musical composition, recorded on an album released by DUX on June 4th, 2021. Currently, Sławomir Czarnecki defines his compositional style as one of postmodern synthesis, also respecting the traditionunder the phrase "analogism". The Vespers, dedicated to Pope Emeritus Benedict XVI, is written in the spirit of Gregorian music, but with modern compositional techniques, resulting in a homogeneous piece with a timeless sonority. The Exaltation of the Holy Cross is one of the most important days celebrated by the religious order of the Holy Sepulchre, founded by the Crusaders in Jerusalem in 1099 and having a branch in Poland. Currently, about 300 people are part of this elitist group. The piece meets the ritual liturgical form of this order, the texts are in Latin, and the liturgical songs alternate with the antiphons specific to the holiday.
Performers: tenor Aleksander Kunach - soloist of the Warsaw Chamber Opera, bass-baritone Dawid Biwo - finalist in 2017 of the "Haricleea Darclée" International Singing Competition, Polish Chamber Choir led by renowned musician Jan Łukaszewski - an elite ensemble founded in 1978 by his brother, IreneuszŁukaszewski, with over 650 first absolute auditions and more than 80 records, winner of the Golden Orpheus Awards. They were joined by an instrumental ensemble from the Baltic Philharmonic from Gdansk.
Here is a new business card of musical Poland, a country that promotes its artistic creation through recordings of high interpretive and technical quality, highlighting both creations of past centuries, recently discovered and musical compositions of today. In the case of Vespers, I appreciated the impeccable interpretation thanks to the distribution made up of exceptional musicians, recognized for the interpretation of this genre and at the same time, stylistically anchored in the music of the 21st century. "Vespers of the Exaltation of the Holy Cross" by Sławomir Czarnecki, an album included in the project "Discs of the Year 2021" played at Radio România Muzical.
Florica Jalbă