Disk of 2021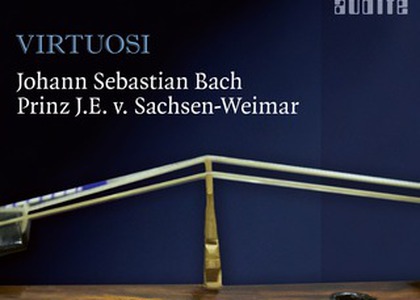 Thüringer Bach Collegium-selections from Virtuos album-CD Review-17thof August 2021
For the first time on the Radio Romania Muzical I present to you Virtuos album played by Thüringer Bach Collegium and released on the 6th of August 2021 under Audite record label. A more than welcome sequal to the series started began by this musical ensemble with the album dedicated to the pieces created by Prince Johann Ernst the IV of Sachsen-Weimar and fallowed by the album which included pieces by Johann Bernhard Bach.Virtouscontains a selection of concertos of Italian inspiration, composed by Johann Sebastian Bach, Johann Gottfried Walther and Prince Johann Ernst the IV of Sachsen-Weimar.
The musical ensemble Thüringer Bach Collegium, founded in 2018 in Weimar, specializes in preclassical compositions, whose members play on historical instrumentsand the niche on wich the ensembly chose to expand its repertoire is the one which references around Bach-the relatives, the contemporaries and the sons of Johann Sebastian Bach.
From this album I have chosen the Organ Concerto of Johann Gottfried Walther (Bach's cousin and the Prince's music teacher; concerto by Giuseppe Torelli ), the BWV 983 Concerto for Violin and Orchestra, a piece attributed by artists to Prince Johann Ernst the IV of Sachsen-Weimar(yet about which one cannot say for sureby whom the original was composed, the clavichord version by Bach dating from his time spent in Weimar, serving the Prince, score retraced by Gernot Süssmuth) and BWV 592 Concerto for Organ BY Johann Sebastian Bach, musical arrangement originally written for violin by Prince Johann Ernst the IV of Sachsen-Weimar.
Thüringer Bach Collegium - a young asemble, with three years of existence, yet composed by musicians with a extensiveexperience behind, specialised in interpreting the preclassical creation. Musicians who promise to keep registering creations from the Bach epoch, rediscovering forgotten pieces, retracing long lost concertos or bringing forth new pieces of information that we thought we already knew. It's worth watching their evolution.
Included in the project 2021's Records carried out by Radio Romania Muzical, the Virtuous album can also be found on the project's page at româniamuzical.ro.
Florica Jalbã