Disk of 2021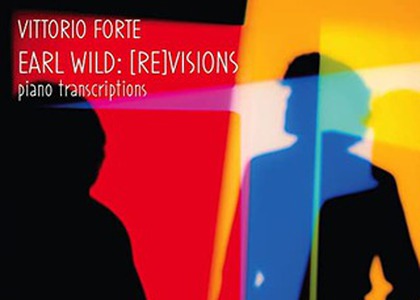 Pianist Vittorio Forte—the "Earl Wild: (re)visions" album—CD Review; September 1st, 2021
This edition's protagonist is pianist Vittorio Forte, who released the album "Earl Eild: (re)vision" on the 26th of March 2021 on the record label of Odradek; the album includes piano transcriptions of important creations belonging to different composers, from Georg Friedrich Händel, to George Gershwin. An admirer of Carl Philipp Emanuel Bach's creation, Vittorio Forte dedicated one of his albums to the German composer, but the hope of exploring the great piano repertoire determined him to dedicate yet another album, this time to Muzio Clementi's creation.This, it does not come as a surprise that, this year, Vittorio Forte devoted his most recent album to another less-known musical name who, for the Italian pianist, came as a revelation: Earl Wild, the author of the album transcriptions, whose passing happened 10 years ago in 2020 (the year of the recording). During his life, the American pianist Earl Wild stood out as a virtuoso, having achieved an impressive record as well-he held recitals at the White House under the governance of six consecutive presidents, starting with Herbert Hoover. Moreover, Earl Wild was the first pianist to have held a recital for the American Television (in 1939) and, several decades later (in 1997), he was the first pianist whose interpretations have been broadcasted on the internet. Earl Wild tried his hand at composing as well, but his recognition has been established thanks to his piano transcriptions.
The "Earl Wild: (re)visions" is an homage brought by Vittorio Forte to Earl Wild, pianist and well-established transcription author, whose parting from this world took place a decade ago. An inspired choice made by Vittorio Forte, a charming, poetical interpretation, of an unparalleled sensitivity.
The album "Earl Wild: (re)visions" is included in the "Discs of 2021" project. Find out more on the project's page on the româniamuzical.ro website.
Florica Jalbă