Disk of 2021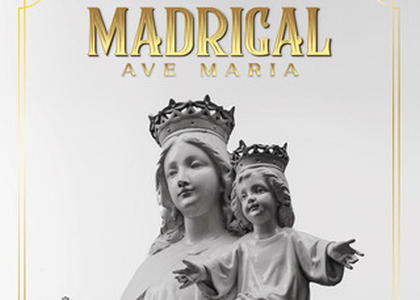 The National Room Choir "Madrigal – Marin Constantin" – selections from the album "Madrigal-Ave Maria" – CD Review, 7th of September 2021
In premier at Radio Romania Musical - s celebration album - "Ave Maria", realized by The National Room Choir "Madrigal - Marin Constantin" lead by Anna Ungureanu and launched by record label Roton Music on the 18th of March 2021. A new tradition took birth last year, when "Madrigal" choir, presented, in august, concert-show called "Ave-Maria". Following this, the organization chose to print a disc with a program inspired by that concert, and "Ave-Maria", next to their Christmas and Easter concerts will be part of the current repertory of the choir, live concerts (with mixed programs and special guests), upcoming to be scheduled annually, on the Assumption of the Virgin Mary day, like it has happened this year. For the album " Madrigal - Ave Maria", next to the choir ensemble participated to the recordings also the percussion ensemble "Young Beats" coordinated by Zoli Toth, the pianist Abel Corban and the actor Marius Manole.
16 works with religious themes were selected by Anna Ungureanu, the main bandmaster of the Madrigal Choir, mirroring the iconic imagine of Saint Maria in the sound art, from renaissance until current days.
The beauty of choir works is enhanced by the refined interpretation of the artists which are part of the National Room Choir "Madrigal - Marin Constantin", under the well-known leader Anna Ungureanu.
The album is included into the project " Discs of year 2021" conducted by Radio România Muzical
Florica Jalbă