Disk of 2021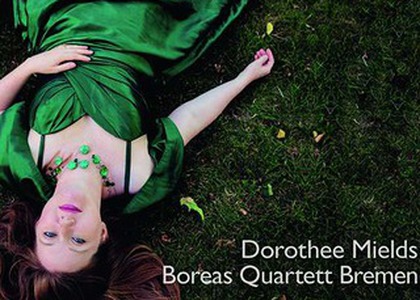 Soprano Dorothee Mields and the Boreas Quartett Bremen ensemble – selections from the "Basevi Codex – Music at the Court of Margaret of Austria" – CD Review, September 14th 2021
A record made entirely by female musicians - "Basevi Codex - Music at the Court of Margaret of Austria" is an outstanding album released earlier this month by the Audite record label, and recorded by the soprano Dorothee Mields and the Boreas Quartett Bremen, a musical ensemble consisting entirely of flute players.
Dorothee Mields' discography encompasses surprising albums and unique programmes, such as "War & Peace - 1618:1918", winner of the OPUS Klassik Award in 2019, as well as last year's album - "Handel's Tea Time", a contender for this year's OPUS Klassik Award.
The Basevi Codex consists of 87 religious and secular tracks (with lyrics in four languages), these in fact being pieces once performed in the beginning of the 16th century at the Court of Margaret of Austria, a remarcable supporter of the arts and daughter of Emperor Maximillian I of Habsburg. The Codex, a priceless piece of the Franco-Flemish music of this time, was purchased by an Italian collector in the 19th century. He then donated it to the Florence Conservatory of Music, where it still resides today, in the institution's library.
Instrumental and vocal-instrumental pieces of composers such as Pierre de la Rue, Alexander Agricola, Johannes Prioris, Jacob Obrecht and Johannes Ockeghem have been selected by Dorothee Mields and the Boreas Quartett Bremen for their "Basevi Codex" album; in order to revive this 500 year old music, they conducted thorough research for the restoration of the scores.
The album reunites artists who specialize in old music and, surprisingly, in contemporary music. The members of Boreas Quartett Bremen are Jin-Ju Baek, Elisabeth Champollion, Julia Fritz and Luise Manske. The group owns over 40 flutes of various dimensions.
The "Basevi Codex - Music at the Court of Margaret of Austria" offers us pure, raw emotion in an entirely female interpretation; Dorothee Mields' unique, fascinating soprano vocal timbre captivates us from the very first note. Her silky, crystal-clear voice harmonizes with the warm, full, and sharp notes of the flutes played by the Boreas Quartett Bremen ensemble.
The album is part of the "Discs of the Year 2021" project by Radio România Muzical.
Florica Jalbă