Disk of 2021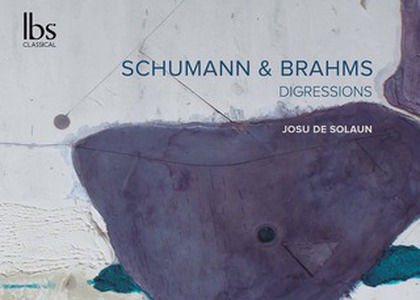 The pianist Josu de Solaun – selections from the album "Schuman and Brahms – digressions" CD Review, 22nd of September 2021
"Schuman and Brahms - digressions" is the album launched at the house of discs IBS Classical on the 2nd of April 2021. The protagonist is the Spanish pianist Josu de Solaun. It's his first solo album after a break of five years, because the musician's intense artistic activity didn't allow him to devote the necessary amount of time in order to make an album.
The pandemic, a tense period of time for all of us, determined Josu de Solaun to dedicate himself to some passions to which time hasn't been an ally - he made this disc, he finished an album of poetry on which he worked for the last 20 years, he studied the Romanian language intensively and he published a vast article about the Romanian music and about what he considers that defines it on the Directory made by the Romanian Cultural Institute ( a true study of musical anthropology ).
Josu de Solaun is the winner of the 2014 edition of the "George Enescu" International Tournament, and in the meantime, he became emotionally attached to Romania, a country he returns to as often as possible, as it has already happened this summer, when he joined the violinist Alexandru Tomescu to run the Stradivarius Tournament together.
The current year has brought Josu de Solaun an ICMA award, and also a debut - in March he held his first improvisational concert in Spain; named "panDEMICity", it was recorded live and has already been launched as an album.
The album "Schumann and Brahms - digressions" is dedicated by Josu de Solaun to the memory of his father, who died last year. The disc contains some of the most beautiful opuses from the piano creation, in an intelligent conjunction, fruit of Josu de Solaun's complex personality - the musician with an analytical spirit, with a vast cultural knowledge, but also temperamental, having the talent of offering a wonderful set of colours and experiences through his passionate, energetic but also meditative and tense interpretation, expressed through a clear and captivating sonority.
Titled "digressions", the album contains the Davidiens' Dances op.6 by Robert Schuman, representing "the spring" of romance and two opuses by Johannes Brahms - Three intermezzi op.17 and six pieces for piano op.118, creations from "the autumn" of romance, when there was the dawn of a new musical language.
The album "Schuman and Brahms - digressions" is included in the project "The discs of the year 2021", played on Radio România Muzical.
Florica Jalbă