Disk of 2021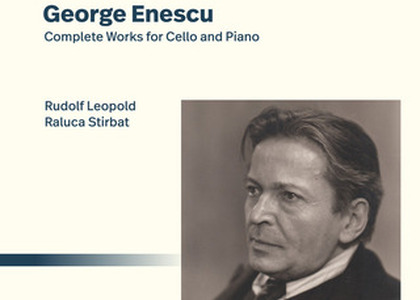 Cellist Rudolf Leopold and pianist Raluca Știrbăț – the integral of George Enescu's works for cello and piano – Music box, September 27th, 2021
For the first edition of the 2021-2022 season of the current show by Radio RomâniaMuzical, a disc which I consider as a milestone for the Romanian musical culture: the integral of George Enescu's works for cello and piano, recorded by the cellist Rudolf Leopold and pianist Raluca Știrbăț for the Palladino label, an album to be launched internationally on October 1st, 2021, and which Raluca Știrbăț linked it in Romania with the 140th birth anniversary of George Enescu, celebrated on August 19th.
The bond between Raluca Știrbăț and Enescu's legacy is well-known: the rescue of George Enescu's house in Mihăileni is all due to the Iașinative pianist, now settled in Vienna. Raluca Știrbăț recorded a valuable integral of George Enescu's works for piano, and she contributed fundamentally to the release in German of "Enescu's masterpieces" by Pascal Bentoiu, a book which remains an essential opus for understanding Enescu's music. Raluca Știrbăț is also the president of George Enescu International Society in Vienna.

George Enescu - a leading unbroken thread not only from an artistic point of view, but also a human one for Raluca Știrbăț. Why have you made this choice?
As Enescu once said about the subject of "Oedipe", I think, maybe, he chose me as well. Things have been going on somewhat naturally over the years, over the decades as far as I am concerned. I discovered him when I was 10-11 years old - sure, as much as a child can discover a musical continent such as Enescu. Then things went on without a hitch. I've always wished to play, to go through and to record the integral of his works for piano, and then, voila, this integral of his works for cello and piano was born and, of course, I hope there are more to come.
Does Enescu tell you something more than another composer? Because there is a human connection that is created between you two; more than a purely professional one.
I think this is the most beautiful compliment that someone could give me when they hear about this connection. I have always felt it. Of course, I had the revelation of the genius and the revelation of a composer which isn't enough known. I remember even my first childhood experiences when I discovered Enescu as well as Debussy, Ravel and Prokofiev, and I understood, I felt, I guessed - better said - that Enescu is at least on the same level as these composers that they are (am I right?) already known and recognized accordingly as some colossi of the 20th-century musical literature.I am constantly attracted by this sensation of permanent mystery. It's music beyond music, it's a lot of psychoanalysis if we can say so. For example, I'm working right now on "Childhood Impressions". And we know very well that there is more here about this first childhood rather than Enescu's childhood. There are his first experiences up to 2 and a half years, after he left his native village, Liveni. So, we're dealing with introspection and psychoanalysis that Enescu did at 50-60 years old. There are things that fascinate me at Enescu and not only from a musical point of view.

So, we have an integral of George Enescu's works for piano, in the interpretation of Raluca Știrbăț, which was given long applauses. Now we also have an integral of George Enescu's works for cello and piano, in the interpretation of Raluca Știrbăț and Rudolf Leopold. I want to ask you if there was any thought of individualising this integral, the interpretation of the works for cello and piano, compared to other recordings which have been done before?
I have never had this plan. All I do - whether we're talking about Enescu, Bach, Beethoven or Mozart - is to simply start with the score firstly. This is the Bible for a musician or at least it has to be - the word of the composer and nothing more. Nothing more meaning that there is already a huge amount of work to be done. Enescu, as we all know it already, is maybe the most precise composer. You find in his music sheets all the instructions that you need, starting from tempi, nuances, colours, fingering, phrasing, pedaling - extremely important when it comes to pianists. His cousin, Cosmovici, was saying that Enescu was distributing the pianists according to the way they knew how to handle this instrument of utmost importance, namely the pedal.
If I were to answer you a little more technically to this question, I would say that, together with Rudolf Leopold, I got preoccupied with this strict, precise observance of George Enescu's tempi. Because this is also one of the problems and one of the reasons for which Enescu is not always properly received or understood; and that is, many interpreters, unfortunately, choose tempi far too rare for various reasons - perhaps technical ones, perhaps others. In any case, this was a very important thing for me, respecting the tempo indicated by Enescu, which are obviously much more than mere tempo indications. The tempo actually gives character, flow and the power through which it acts upon the listener's conscious and subconscious mind.

Let's talk a little bit about Rudolf Leopold as well, who is a special cellist. I also admired him in Bucharest, in 2018, as a matter of fact. I wanted to know his opinion on George Enescu and how did you work together on this project?
I created a lot of chamber music with Rudi. The first time that I played Enescu was in 2005, I think. It was also a masterpiece of maturity - a piano quintet. And then, Rudi told me he had this revelation of Enescu's genius. He knew Enescu, but not in depth. Although he is an extremely complex chamber musician, he is also a composer as well as an arranger and he has a very wide repertoire - from the baroque to 21st-century music. And things have evolved naturally; I played a sonata, then the second sonata and, sure, it was my wish too, but I wanted a great deal (and that happened) that the intention to create the integral to come from him firstly. I played this repertoire several times in concerts, then this pandemic interfered - with good and bad things. Our schedules were even more difficult to match and we took advantage of this breathing moment caused by the pandemic. The disc was recorded last year, in June, at the Bosendorfer factory in Neustadt, and, for obvious reasons, we have postponed the release of the album for this year when, voila, we are also celebrating George Enescu's 140th birth anniversary.
Let's talk about every piece of work on this disc, individually. The disc starts with "Sonata No. 1, op. 26".
Perhaps in the case of the piano and violin creation, we are talking rather about an itinerary. In the case of the cello creation, there are actually two Enescu creative period, both completely different from one another. We have the almost-teenage period - 17, 18 years old - and then Sonata II, of course, in Do Major, since 1935. The youthful pieces of work… I say they are only the ones discovered until now because, you see, the manuscripts of Nocturno and Saltarello, written at the age of 16, in 1897, were discovered very late in the 90s in the USA, in a private collection. Who knows what the future has in store for us!
Both this Nocturno and Saltarello and the Allegro in Fa Minor for piano and cello, rediscovered by the late Hans Peter Turk of Cluj in the 80s and edited back then, but also the Sonata in Fa Minor are works written in Paris, but they have a very Viennese musical air. When we listen to them, we have the feeling that Enescu has not actually left Vienna because we hear all his great idols - Brahms, Beethoven, Schubert and even Mendelssohn. But despite these influences or, sometimes, even small and stylized, but quite directly quotes, we find a young man, a very young Enescu who is extremely confident in his composing means. Formally speaking, the works are impeccable, they are quite monumental in writing - I am thinking here of Sonata in Fa Minor, extremely difficult for both instruments; and, I dare say, even more for piano. It is a thing that I've noticed, especially in his early work, that Enescu seems to want to show what a great pianist he was. We very well know that he came at the age of 7 with his father to Vienna and wanted to join the main piano. Costache, who was a dilettante as well - in the most beautiful sense and in the best sense of the word - insisted, however, that Enescu should join the main violin and secondary piano.
Sonata II No. 2 in Do Major, op. 26 - it is less known because, with a lot of discretion, Enescu writes at the end of the manuscript "finished in Vienna". I started to research and I wasn't understanding why Vienna, what Enescu did during that time in Vienna because he hadn't played any concerts. Long story short, it is already known that tragic episode of his life, better said of Marucăi's life, who was suffering with depression at the time, with a luckily failed suicide attempt; from that moment, she was treated at the Purkersdorf sanatorium, near Vienna - a famous sanatorium of the time. I was very glad and emotional that I researched, searched the archives of Purkersdorf and found that very detail filled out by Enescu with his own right hand. So, at the time he was at Purkersdorf, between Bucharest and Paris, he was stopping by and staying with her as long as time let him. And you see the echoes of this extremely difficult period represented in this sonata. And I'm thinking especially of the second part, that diabolical and rather dark scherzo, absolutely brilliant written and for us,speaking from a musicological point of view, very closely related to everything called the motives of Oedipe. It was not by chance that the premiere of the piece took place in Paris, just a few months after that.

So, we have the works for piano, now the works for cello and piano…Is there anything else after that?
We hope there are more to follow. Fortunately, Enescu wrote a lot for the solo piano and piano chamber music. And, fortunately, works of maturity and masterpieces.
And is there any concrete plan already?
There are plans. As far as I am concerned, when it comes to Enescu, I don't want to rush things. I want to do things very well to be very pleased because Enescu is like a plant, a flower that needs its time to grow and flourish. It is certain that today musicians have little time or that Enescu needs exactly this time, the real immersion into this music, so that it becomes your second nature. Otherwise, things are not up to this music standard. That is what I believe!
I had the opportunity to admire this chamber duo - Rudolf Leopold and Raluca Știrbăț - in January 2018, in Bucharest, in a recital organized by Radio România Muzicalat Cotroceni Museum. On this disc, which I warmly recommend, I find the same special sound of the cellist Rudolf Leopold, vibrant and full of warmth, along with the dedicated and passionate Raluca Știrbăț - it's a long-worked production, created by two musicians who are obviously in love with George Enescu's music and who have left space and time to reflect upon it, to bring to light all the details in these revealing pieces for the spirit of Enescu.
Cristina Comandașu