Disk of 2021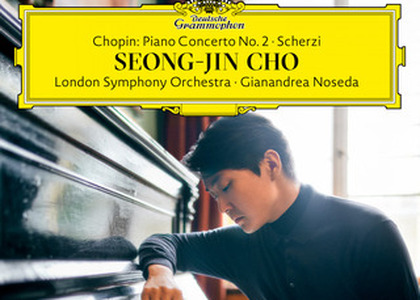 Pianist Seong Jin Cho - Music box, October 11th, 2021
Chopin in the performance of the South Korean pianist, SeongJin Cho: today at the age of 27, he become internationally knownin 2015 as the winner of the Chopin Competition in Warsaw. This is the last edition of this prestigious contest - the competition is organized once every 5 years, but in 2020 it was decided to postpone it until 2021, the Chopin Contest is ongoing now, until October 23rd.
It is Seong Jin Cho's sixth album to be released at Deutsche Grammophon - the first album included recordings made during the Chopin competition. In 2016, followed an album with The Four Ballads by Chopin and Concert no. 1 for piano and orchestra by the Polish composer. Now, we have an album - symmetrical, with The Four Scherzi by Chopin and Concert no. 2 for piano and orchestra by Frederic Chopin.
As in 2016, for the recording of Chopin's Concerto No. 2, released internationally on August 27th, 2021, SeongJin Cho collaborated with the London Symphony Orchestra, conducted by Gianandrea Noseda.
You will discover a version in which you will recognize the touch of the pianist RaduLupu, with whom Seong Jin Cho studied: without emphasis on being virtuoso and without anything surprising or shrill - a trap in which is easy to fallwhen you play Chopin's music. But there is a sincerity and novelty of speech, a freshness and a very warm and optimistic vision. SeongJin Cho seems to be telling us: "this is me" - and we discover, perhaps, surprisingly, a great pianist, who especially impresses in the second part so expressively built of this well-known concert.
Maybe contrary to expectations, I recommend this album especially for the audition of The Four Scherzi by Frederic Chopin, in the interpretation proposed by Seong Jin Cho. Because especially in these works, we discover the pianist whom we only intuited in the played score: strong, master of his art, with a wide dynamic palette, full of nerve or, on the contrary, sensitive, where the score demands it. SeongJin Cho is the prototype of the classical artist - on the opposite to the romantic character; he does not make a spectacle of himself but highlights the score. It is the exact opposite of the type of personality appreciated in society today, but is the only way to say anything relevant in the interpretation of these famous scores, so often performed and recorded.
The record can be listened to on Radio România Muzical on Monday, October 11th, from 19.00.
Cristina Comandașu