Disk of 2021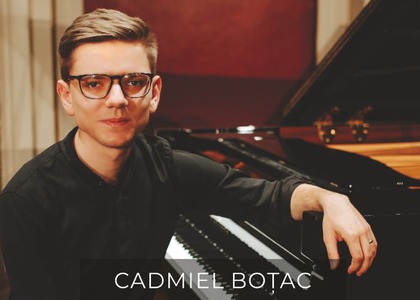 The pianist Cadmiel Boțac – the debut album, published by the Home Radio Publishing House – Music box, 1st of November 2021
On the 1st of November we will mark the release of a new album published by the Home Radio Publishing House during our TV show, in the collection of Radio România Muzical. On the cover: the name of the young pianist Cadmiel Botec and inside it, Sonata Appassionata by Ludwig van Beethoven, Sonata no. 2 by Frederic Chopin and the Second Suite by George Enescu. It is the debut album of the 24-year old pianist, today a student at The Music Academy and Arts in Vienne, a disk that you can listen to integrally, together with an interview with the pianist Cadmiel Boțac.

For Radio Day, Radio Romania Day and the Day of the Radio in Romania, 1st of November, we have chosen one of the newest released discs in the Home Radio Publishing House during our TV show, not randomly signed by Cadmiel Boțac. It is a disc that you have won as an award for the scholarship of The Heirs of Musical Romania as disk editing. Seeing as it is the Radio Romania Day, I am going to ask you - how important is it, generally speaking, the role of public radio for a young musician?
First of all I would like to show my gratitude towards the whole crew Radio România Muzical. As I have told you, this disc comes, indeed, due to two won awards, but I believe this is only a part. The other part is the trust the radio gave me. So I don't want to take all the glory upon myself, all the cheering and the awards, but, firstly, the fact that the Radio trusted me and surely, they also support young developing musicians. I consider that for a young musician any mean of promotion is welcome and Radio channels are indeed an excellent way of promoting us, of putting as on the spotlight for people, for listeners and I cannot be happier that the disk will be listened to on Radio Day and I am looking forward to hearing it as well, indeed.

Tell us some impressions that you can recall now from the recording session.
Even though the recording session took place three years ago, in September of 2018, I gladly recall that week of recordings, a week that was not easy at all, first of all, mentally speaking as it is very difficult to keep focusing, stay lucid, have energy and rehearse maybe so many time or maybe a passage that it hasn't come out the way you want it to, but finally, there is surely the mental freedom and happiness, first of all because you finished the project successfully. Recordings are complicated because you have to keep focused and keep your musical intensity during the whole recording session, which was not short, it lasted for a week. Due to that, I can only be happy for this project that we all managed to finish it together successfully.

Listening to this disc, I came to two impressions if I can say it like that. The first one, the disk is certainly an international quality and I can proudly say that the disc makes a great fit for you and for Radio România Muzical and for Romania in general and I can say, as a member of an international jury team in the discography industry in Europe. The second one, we find out that the artist has a specific feature. I think this is the same type of artist as Dinu Lipatti, for example, who valued the letter of the score more than the spectacle accompanied by a sobriety in interpretation. So let me ask you, how would you describe yourself as an artist and if the same impression of mine is real, is there something that defines you or what actually defines you?
Sure, first of all, I have to know myself as an artist. This is very, very, important. As you have mentioned, I was taught when I was young and I was always advised to approach an interpretation close to the score, to the original text, because, eventually, all the details are found in the score, all the intentions of the musician are found in the score, through the chores most of the time, through the directions offered by the musicians. Due to that, I consider that it is very, very important for the interpret to respect the score and to keep the fidelity to the message of the musician, moreover to the public. And then, this sobriety, surely, I think it comes intertwined with a grace that I have and the feeling of happiness that I get in order to make music, to be on the stage for so many times, to work with extraordinary people. So you pointed it out very well from my point of view, an inclination towards the score and some sobriety in interpretation. Surely, this sobriety coming with this act of grace, which even Bach had for so many musicians as well, firstly towards the Divinity ad then to the public and the loved ones.

Have you ever thought that this sobriety could be a disadvantage in the world where each of us exhibits our personality and searches for a way to shock? Maybe even people who work in classical music? How hard is it now actually for a young interpret to say something now and break the ice?
The majority of the artists want to break the ice through shocking, through amazing others. Due to that, an introvert personality, more somber, will probably obey a little bit hardly on the International stage, but I think that each of us has their own place and role and their specific public that they will speak to in a specific and efficient way. I noticed such thing, especially since I have lived in Vienne, this sobriety, in music, this inclination towards the fidelity of the score. It is more appreciated in Austria for example and surely in other countries.

Who are the pianists that you look up to, that you have as a role model?
You have already mentioned Dinu Lipatti and it is an honor to hear about such comparissons even though I consider it to be a lot to work now in order to get to such a high level, but Dinu Lipatti is one of the pianists who I listen to gladly, I even have so many discs of his recordings at home. Furthermore, I would like to mention Krystian Zimerman, a pianist that recorded a huge amount of music from the creation of Frederic Chopin, of Beethoven and so on. He is a man I extremely admire for his honesty and for the fact that he does not try to stand out. He has concerts very rarely thus this inclination through text and score, this humiliation, I appreciate it a lot.

Let's talk about the disc repertoire for a bit. We have two big sonatas. The Appassionata Sonata by Beethoven and the Sonata no. 2 by Frederic Chopin together with The Suite no. 2 by George Enescu. I presume that you didn't think of the disc when you chose such works, did you?
Absolutely. They were simply just works that I had in my repertoire at that moment, but they weren't chosen randomly.

Tell us more. Why not randomly?
If we think about the Second Sonata by Frederic Chopin and the Appassionata Sonata by Ludwig van Beethoven, we can find that sobriety in these work that we have mentioned earlier, but even that suffering that these two composers went through. We think of Beethoven, the beginning of his health issues, all the frustrations, all the intense feelings that he had, outside and inside, that he took out during these years by composing the Appassionata Sonata, a sonata composed immediately after the will in Heiligenstadt, where Beethoven expresses all his frustration, all his pain, all the fight against the destiny and all the helplessness. And going forwards to Frederic Chopin, a bit later, a few years about Beethoven, that sonata includes or has the core, the third part, the famous Dead March that was born through suffering and helplessness. And then I consider these two works to be very similar in this direction. Furthermore, on one hand we have suffering and on the other hand we try to escape this world. Surely, a failed try because we cannot exit space nor time beig as we are human beings, but this try to concretize a relationship with Divinity or a try to enter a spiritual bonding with Divinity. There are so many passages in these two works, so profound with an incredible and intense feeling that you cannot not think of a Divinity bounding.

Let's talk about the Second Suite which comes from another world other than the previous two sonatas.
That's right. We're talking about a work composed at the beginning of the 20th century, a work intitled Sound Bells. Once again, the idea of becoming close to the divinity is found in the title. When we say bell we automatically think of the church, of God and then, this search of Enescu, this suggestion is once again presented in the work of George Enescu, The Second Suite. I consider it to be the elements that unites these three works.
Let's now talk about your future plans. There will be that disk that we hope to release in the Radio Chamber as well in January of 2022 when you will have to sustain a recital together with Conrelius Zibo, the two scholarship guys from The Heirs of Musical Romania come together in a recital. After that, are there any other plans?
At the moment I am still a student in Vienne. I want to finish my studies. During that, of course, I want to participate to different competitions which I believe to be a way as good as the previous one to promote yourself and to get yourself in the spotlight, to open some new doors and new opportunities. These are my plans for the next two, three years, if I can say so. After that, we'll see. Things are unfortunately, unsure, we're living complicated, unsure times now and we never know where life takes us.

What are the concerts you would like to participate in the future?
I would love to participate at the Ceaikovski concert. It is a dream of mine and it has been for many years. That and because I know, more or less, the famous pianist Denis Matsuev who encouraged me a few times to participate there. So probably this will be on e of my main projects that I would like to try.

What gives you strength to go further? Is this the faith that I notice to be expressed so many times in your speech?
Faith, indeed is my main motive that helps me go further by looking at everything that happens around us, by looking at the world we live in with all its problems. Just by looking forward, you manage to go further and move on, to have a positive mentality and of course, music is the world that helps us in a way to forget about problems and it distracts your focus of something that is passing, of a world with many problems, to something extremely beautiful.
Nevertheless, Cadmiel Botac is a young exceptional pianist whom the Romanian Musical school could be proud of. His technique, sensitivity, profound understanding of the score and his profile of a mature, serious, oriented towards performance rather than glamour, artist - all of these I hope that they will bring him the International career that he fully deserves. His debut disc has certainly an international level and I hope that many people will cherish it inside the intimacy of their own homes - we all need Beethoven, Chopin and Enescu in order to nourish our soul in a world of insecurity and worthless sounds.

The disc can be listened to in premiere on Monday, 1st of November, 19 o'clock at Radio România Muzical
Cristina Comandașu