Disk of 2021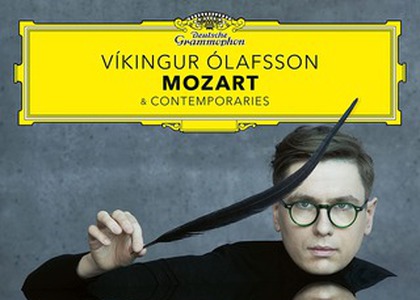 Vikingur Olafsson – Mozart and his contemporaries: Music box, 15 November
A record which explores almost 90 minutes of music, facets of creation for instruments with written keytar approximately in 1780 - 1790, a decay when Mozart was at the climax of his creation and other musicians were also proving, an amazing mastery and fantasy. In 1788, Mozart was writing his piano Sonata number 16, know as "Sonata Facile". Vikingur Olafsson remembers how, when he was a child, draw over this Sonata with countless observations - because even its name "facile", it wasn't an easy at all, neither for the beginners. Now, at 37 years old, Olafsson made pace with Mozart music, in general, but especially with this sheet music.
This album gives us the occasion to meet with work and composer that we are rarely listen these days: Domenico Cimarosa - during an interview, Olafsson reminds us that the author of numerous operas of which spirit reflects in numerous piano Sonata, some of them amazing.
Then, Baldassare Galuppi, of which sonatas for piano present on this record are at a prophetic quality as Olafsson calls it. And the last, Carl Philipp Emanuel Bach, the talented son of greatest Johann Sebastian, very admired by Mozart itself.
We can imagine Sonata "Patetica" by Beethoven, without the apparition of Sonata no.14 in C minor by Mozart? Vikingur Olafsson is asking. A work from 1784, part of those 6 series of the sonatas for piano composed at Vienna, the expression of a mature spirit and a whirling admired put into the spotlight by the interpretation of VikingurOlafsson.
"A wonderful record" The Times writes. And BBC Music Magazine underlines: "there are a lot to be admired at this amazing piano art of Olafsson, especially Sonata no 47 by Haydn and Sonata "facile" by Mozart"
The Irish pianist Vikingur Olafsson, today 37 years old, has reached to the fourth album for Deutsche Grammophon, record label with which collaborates since 2017. He started with an album which contained Philipp Glass music and with the face of a young musician interested especially of contemporary music. Then followed Bach, Rameau, Debussy and now Mozart, records that have changed perspectives. Vikingur Olafsson is a great pianist of our times, inventive, non-conventional in interpreting without passing by the sheet paper, with an incredible touch and piano shades which are breath taking. He always has something new to say, interesting and attractive. Even in the most played music of Mozart.
Cristina Comandașu