Disk of 2021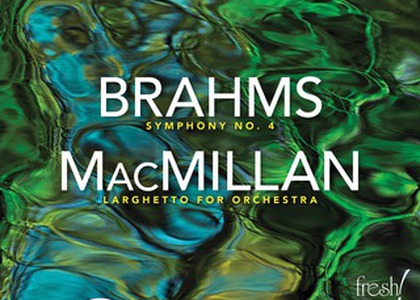 The Pittsburgh Symphony Orchestra, band conductor Manfred Honeck-Brahms and MacMillan: Music box, the 6th of December 2021
The newest record of the Pittsburgh Symphony Orchestra, recorded under the magic wand of the Austrian conductor Manfred Honeck, who has been successfully leading the assembly since 2007, has been released on the 22nd of October 2021 and has been nominated to the ICMA Awards 2022, in the symphonic music category.
On the album, we find Johannes Brahms's Symphony no 4, recorded in concert in April 2018, and Larghetto by James MacMillan-work that has been specially requested for the anniversary of 10 years of collaboration between Manfred Honeck and the Pittsburgh Symphony Orchestra and interpreted in premiere in October 2017.
The British magazine Gramophone talks about the "impression of interpretative renewal" transmitted by Brahms's Symphony no 4 in Manfred Honeck's vision. Which I think it's true for all of Honeck's approaches, which can bring a breath of new life or a new and special vision to already well-known scores. And this new breath doesn't stem from nonconformity but from the careful research of the original score, which could be seen in the thorough analysis from the booklets of the productions signed by Manfred Honeck.
In talking about Symphony no 4 by Johannes Brahms, Honeck cites the composer's own affirmation, who notes that he composed "a new sad symphony". There is indeed a nuance of melancholic sadness in the interpretation proposed by Manfred Honeck, supported by the slower tempos that he approaches and the total lack of emphasis that we hear in other interpretations. But we also find a cleared sound, upheld by the way in which every part of the orchestra builds their speech and from the bandleader's knowledge of assembling it all in a flawless construction. All of this culminates in the passacaglia from the last part, a sum of the composition techniques whose tradition began in Baroque and has reached the evolution of Romanticism at the end of the 19th century. It is a world that Brahms watched going down; for us, today, a landmark of value and tradition, to which we can refer to in our search of the Absolute.
On this record, we can also find the work of the Scottish composer James MacMillan. It is a piece of wonderful expressiveness, devoid of the roughness that we associate, maybe, with contemporary music, and with a clear reference to liturgical music, which is in itself and dedication to Manfred Honeck, known for the fervor of his Christian faith.
Cristina Comandașu