Disk of 2022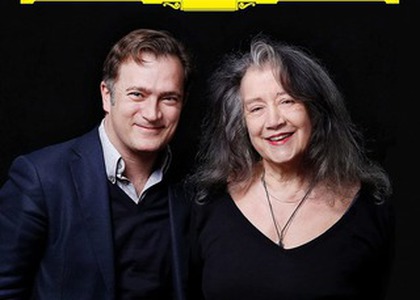 Violinist Renaud Capuçon and pianist Martha Argerich - Music box, December 5th, 2022
Album released by the Deutsche Grammophon label house on November 18th - an exceptional violin-piano recital, with both violinist Renaud Capuçon in the spotlight, who is unveiling his collaboration with the well-known German record label, as well as pianist Martha Argerich, a truly sacred legend of contemporary piano music.
The recital includes three of the grand sonatas for violin and piano: Sonata no. 1 by Robert Schumann, the Kreutzer Sonata (Sonata no. 9) by Ludwig van Beethoven and Sonata in A Major by Cesar Franck. I listened to this album without knowing that it had been recorded during a live event, and I very much admired its lightness, the details, the great and obvious professionalism shown by the two players. Realizing that everything was performed on a stage as a live recital, without any trace of hesitation, without any wrong beat - this is what makes this album an exceptional one.
This album was recorded during a recital at The Aix Easter Festival in Provence. "An extraordinary evening," said the British newspaper The Telegraph about Renaud Capuçon and Martha Argerich's performance, held on April 23rd, 2022. It had been only a few days since the death of American pianist Nicholas Angelich on April 18th, 2022 (he was only 51 years old) when Capuçon and Argerich decided to play the recital in honor of their common friend. This brought more emotions to that memorable evening.
Renaud Capuçon, the 46 year old violinist, one of the most known and admired French musicians of our times, recalls the following: "My first time singing alongside Martha Argerich in a duet was two years ago. I remember us reading together for the first together the second part - theme and variations - of Beethoven's Kreutzer Sonata. I had never heard this part being played like this: so unmistakably clear, fast and with temperament. Now every time we play the Kreutzer Sonata, I feel as if it were fireworks." Hearing them play Beethoven's 9th Sonata feels like a fireworks show indeed, one of the greatest I've ever heard. It is an extremely difficult score for both partners, but especially for piano, which is far from being a secondary part; it is actually the foundation of the Sonata's message, and Martha Argerich's performance is truly majestic - both her solo parts and also those in which the violin plays the main role. A true delight!
The last piece on this album is Cesar Franck's iconic Sonata in A Major. "We've had different experiences with this sonata," said Renaud Capuçon, "but this doesn't stand in the way of our getting along. We're creating a new picture, a new painting each time we sing Cesar Franck's sonata. We have an easy-going, sincere relationship, there is amazing trust between us. We are also very comfortable together on the stage. You will hear it in the recording," says Renaud Capuçon. We can see the Art Nouveau values in Renaud Capuçon's and Martha Argerich's beautiful performance of Cesar Franck's sonata - innovation, novelty, as well as smoothness, graciousness and the feeling that the world is hanging above the ordinary. Not to be missed!
Cristina Comandaºu