Disk of 2022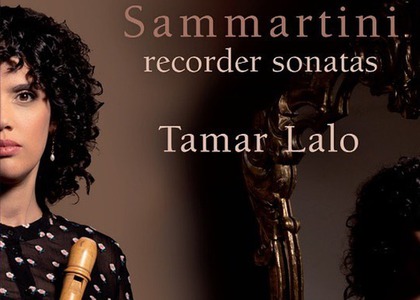 Flautist Tamar Lalo. Flute and basso continuo sonatas by Giuseppe Sammartini – CD review, February 13th, 2023
Daniel Oyarzabal - harpsichord and organ, Jadran Duncumb - lute, Eyal Street - bassoon, Josetxu Obregón - cello, Ismael Campanero - viola. Album released on February 10th, 2023.
Being deeply passionateabout the Renaissance and Baroque creation, Tamar Lalo is one of the most talented vertical flute interpreters in the world. Aged 39, the flautist has had an extensive career. She performed as a soloist for the Israel Philharmonic under the guidance of conductor Zubin Mehta, before moving to Europe as a way to delve deeper into the study of old music. Tamar Lalo started studying the flute at the age of seven and in 2006 she completed her studies at the Jerusalem Academy of Music and Dance, assisting in the opening of the first old music academic department in Israel. She taught vertical flute at the Tel Aviv Conservatory, before moving to The Netherlands in order to hone her abilities further at the Royal Conservatory of The Hague. She then began studying together with Pedro Memelsdorff at the Escola Superior de Musica de Catalunya in Barcelona. As of now, she has performed in The Netherlands, Spain, Israel, the United States of America and in France, and she has taken part in prestigious festivals. Moreover, she has recorded numerous old music records.
In November 2021, Tamar Lalo recorded a disc in Madrid, the city where she had settled in. The disc was comprised of vertical flute and basso continuo sonatas, composed by the Italian musician Giuseppe Sammartini, a bright oboist and a Baroque composer born into a family of musicians from Milano.At the age of 30, the artist moved to London, having been employed by the Opera Orchestra of the Regal Theatre ensemble, where he remained until his death. He created orchestra, concert and chamber pieces, dedicating a large fragment of his music sheets to the woodwind instruments. Until the year 1728, when he left Italy behind, he had composed a set of 32 flute and basso continuo sonatas, kept in the shape of a manuscript. Only three of these sonatas have been published in the 18th century, in Amsterdam. The complete set can be found at the Sibley Library in Rochester, after it had been bought in London in year 1942. The collection is not that well-known, although it deserves our entire attention. It is thoughtto be a form of original music, considering the times it has been composed in, being innovative rhythm and harmony-wise, and presenting a unique melodic elegance. Flautist Tamar Lalo is responsible for bringing forth five of those sonatas, which have been included in her recent record (released on the 10th of February, 2023, at the Swiss Record Label, Panclassics), recorded together with Daniel Oyarzabal - atharpsichord, Jadran Duncumb - lute, the bassoonist Eyal Street, the cellist Josetxu (Hoseciu) Obregon and Ismael Campanero at the viola.
Larisa Clempuș