Disk of 2022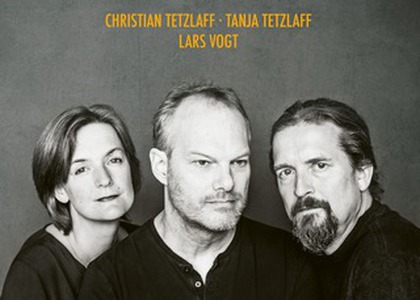 Violinist Christian Tetzlaff, cellist Tanja Tetzlaff, pianist Lars Vogt. Franz Schubert - Chamber works - CD review, March 20th and 22nd, 2023
In early February, record label "Ondine" released a double album comprised of chamber works, which reunites three major soloists in the European concert scene - the violinist Christian Tetzlaff, cellist Tanja Tetzlaff and Lars Vogt, a German pianist and conductor who regretably passed away on September 5th, 2023. It is perhaps for this reason that the album focuses mainly on him, managing to portray a completely unusual emotional impact. In other words, it is the last album recorded by Lars Vogt between his chemotherapy sessions, without him ever being present at its release.
During one of his older interviews, he talks about accepting the pain, the sorrows that he would find in Bach's "Goldberg" Variations, but also about the immense happiness which is embedded beyond sounds. That is exactly what we can infer by listening to the two piano Trios by Franz Schubert, composed later in life, the pieces of resistance on this new album, together with the "Arpeggione" D.821 Sonata, the "Notturno" D. 897 piano Trio and the violin and piano Rondo brilliant D. 895.
The three interpreters - Christian Tetzlaff, Tanja Tetzlaff and Lars Vogt, well-known artists to the music lover public for over 30 years, are each formidable soloists - Christian Tetzlaff's appearances are usually compared to defining existentialist experiences. Moreover, each and every one of them presents themselves with an infinite amount of consideration towards his other two dialogue partners. They actually retain a prolonged shared experience, that of the chamber language, which they have a deep knowledge of... "the art of nobly dialoguing".
In a premiere edition, we are listening to the piano Trio D.898 op.99 in B-flat major, finished by Schubert during his last year of life, very generous regarding its dimensions and message, offered to us by means of this almost ethereal version, with lines and characters of great subtlety, covering a diverse and dynamic diapason, never static, never lacking in substance. It is not a pathetic recording. The sonorities are rarefied, translucent, especially in the second part, "Andante un poco mosso", where infinitesimal nuances are doubled by the tenderness of a common interpretative gesture, which becomes giocoso in Scherzo. For the final Rondo, we admire the way in which the violin and piano accompany one another with reverence. At RRM, a refined Franz Schubert chamber album that I'll come back to on Wednesday, March 22nd.
Marina Nedelcu