Disk of 2022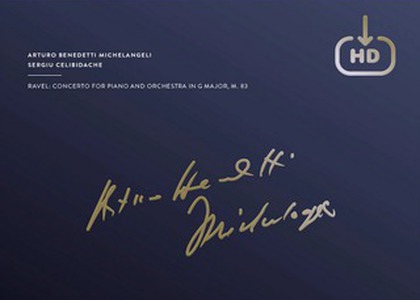 Pianist Arturo Benedetti Michelangeli - The London Recordings album, vol. 1 - CD Review, March 23rd-24th, 2023
This is truly a discographic event - discovering some recordings in the London BBC archives, which belong to pianist Arturo Benedetti Michelangeli from 1959: Maurice Ravel, Muzio Clementi, Frederic Chopin, pages well-known by music lovers, only in video format. As the archives were being looked into for video recordings, the original audio format was found, which was then mastered, so that on February 3rd, 2023, this Arturo Benedetti Michelangeli - The London recordings - vol. 1 historic double album was released as part of The Lost Recordings collection.
We also have the added surprise of discovering a 1982 concert included on the album, held by the pianist at the Royal Albert Hall, accompanied by the London Symphonic Orchestra, conducted by Sergiu Celibidache - the recording we were missing, which highlighted the extraordinary collaboration between the artists. One can see the respect and appreciation the artists showed each other, despite their strictness and even their picky character - as nobody knew if Michelangelo's concert would take place until the last minute. He used to cancel his performances if the sound of the two pianos taken on tour didn't match his perception or his view at that moment. Or in Sergiu Celibidache's case, one couldn't know if he allowed microphones to be set up on stage before his performance, due to him being against recording. But in the evening of April 8th, 1982, not one but several miracles occurred: not only was Maurice Ravel's Concert in G for piano and orchestra held, but it was also recorded - this was a memorable moment for interpreting art around the world. The two artists - the pianist and the conductor - were in perfect symbiosis when it came to their musical understanding, bringing an indescribable note to the experience.
I'd like to remind you of some historical dates. They met in Berlin in 1938 and for an extended period of time, almost the artist's entire lifetime (with small breaks), Sergiu Celibidache was the only conductor whose words Michelangeli listened to. In his book, dedicated to the Romanian conductor, Klaus Umbach gives his testimony: "Kindred spirits, the two of them - comrades in struggles and ideas. Both of them are interpreting a soloist sheet music against the rest of the corporation, enjoying their confidence and pleased with themselves, but also showing great reliability and steadfastness, as relentless, reputable and intangible as their ideal of perfection." "He is a genius, Celibadache used to say. He has some sort of acoustic understanding that I've never seen in anyone before. I haven't seen another pianist in the entire world who would come a week ahead to the concert hall only to tune and play his instrument. If the piano tuning doesn't correspond perfectly with his desires and expectations, he cancels the entire show."
An exceptional character, emerging from the world's musical elite gallery, "a Liszt of the 20th century" after Alfred Cortot, usually eccentric, Arturo Benedetti-Michelangeli is a "triumph of modern piano works" (after Piero Rattalino, the author of the Storia del Pianoforte book). His art has a supernatural glow, enclosed, a "combination of fire and ice, of pure energy and extreme tenderness, of infinite precision and irresistible lyrical nuances," according to the reviewers of those times; at the same time, his personality - unpredictable, whimsical - lives on in the memories of those who knew him, and contributes to shaping the "Michelangeli mystery." We're showing another side of him in the Gaspare de la nuit suite, also Maurice Ravel's, which is a 1959 recording, only to come back tomorrow with two other pages by Muzio Clementi and Frederic Chopin, part of the same Arturo Benedetti Michelangeli - London Recordings collection.
Written by Marina Nedelcu