Disk of 2022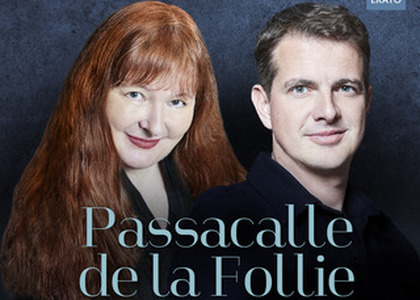 Countertenor Philippe Jaroussky and L'Arpegiatta group, led by Christina Pluhar-"Passacalle de la Follie" – CD Review on April 7th, 2023
A new Philippe Jaroussky album in the company of L'Arpegiatta group, led by Christina Pluhar is an event adressed not only to the lovers of old music. After unforgettable albums, which are praised and steadily listened to, like : "Monteverdi - Teatro d'Amore", "Via Crucis", "Music for a While - Improvisations on Purcell"- we are now offered a new theme- Arie for the French aristocracy of the 18th century, under the name "Passacalle de la Follie", launched under Erato on February 17th. There are many years since Christina Pluhar, her musical group and countertenor Philippe Jaroussky are collaborating. It is a charming experience, fueled by the passion for performing this kind of repertoitre, which takes back its well-deserved place in the music history, essential for the European civilization. It is also fueled by the science of being able to adapt in a pleasant and accesible manner to this old score and this is entirely the merit of Christina Pluhar.
I add here the special vocal component, and by this I mean Philippe Jaroussky, who is so refined in color, expression, agility and braveness when faced with an unknown repertoire. I quote from the presentation of the album: "There are pages of refined expression which convey love, regret, but also spiritual reflections". The title "Passacalle de la Follie" is inspired by an Arie - "Yo soy la locura", written on a Spanish text by Henri Le Bailly, a court musician.
Christina Pluhar is a theorbo player, the leader of the musical group "L'Arpegiatta" (founded in the year 2000) and she is taking upon herself the concept and arrangement of this French Arie from the 18th century.- a celebration for the mind and soul, a tribute to love, paid in a sublime art, during a restless century, dominated by political assassinations.Louis XIII inherited the throne at 9 years old, after a period of regency under his mother, Marie de'Medici-a bloody era, but with key characters who loved arts.As such, in France, a number of authors who compose this kind of arie are praised. The term first appeared in a collection signed by Adrien Le Roy in 1571 and remains in the attention of the French aristocracy until the early years of Louis XIV's reign – who was of course passioned more about elaborated forms such as court ballet, comédie-ballet and later, lyrical tragedies.
But coming back at these aristocracy Arie, the most well-known composers are Pierre Guédron, Antoine Boësset, Étienne Moulinie and Michel Lambert. We find them in this album with one or more arie, along with other names and several instrumental pages signed by Robert de Visee and Marin Marais, certainly an option meant to offer diversity of musical discourse.
The beauty is immeasurable and listening to them is extremely pleasant. I do not remember the extraordinary qualities of the interpreters, but we know them well, we admired them in the last edition of the "George Enescu" International Festival (we hope to have this opportunity again). Until then, we are enjoying these new discography appearances.
Marina Nedelcu