Disk of 2022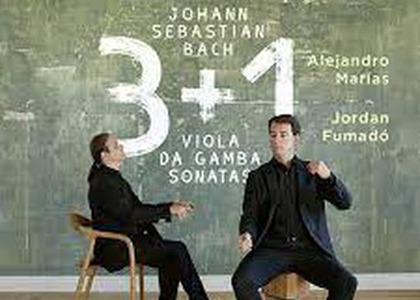 Violist Alejandro Marias and harpsichordist Jordan Fumado, CD Review, 14th of June, 2023
Johann Sebastian Bach - Sonatas No. 2 in D major, BWV 1028 and B minor, BWV 1030 for viola da gamba and harpsichord.
The sonatas for viola da gamba and harpsichord by Johann Sebastian Bach were written between 1717 and 1728, during the time that the great Baroque compositor spent at the court of Köthen. Nobody knows the circumstances in which the three compositions were brought to life, but they seem to have been written for Leopold, Prince of Anhalt-Köthen, an amateur player of viola da gamba, who had Johann Sebastian Bach in his service. These specific scores are actually arrangements of other works, which had been initially written for two flutes or violins and harpsichord, according to musician Jordi Savall. They were transformed by Bach so both the viola and the harpsichord could get a greater stylistic range and a unique combination of timbral registers.
In the course of the last century and in recent years, there have been great numbers of discographic versions of these sonatas, the most recent being the one released on the 10th of March 2023 by the Eudora Records Music Label in Madrid. The CD was recorded in August 2021 at "Auditorio de San Francisco" in the Spanish city of Ávila by violist Alejandro Marias along with harpsichordist Jordan Fumado - two artists who have amazing achievements in the field of early music.
Alejandro Marias is a teacher of viola da gamba and Baroque cello at the Conservatory of Music "Manuel Castillo" in Sevilla, the artistic director of the "La Spagna" musical ensemble and member of the "GoYa Quartet". He has performed on the stages of more than 20 countries with different early music ensembles and has also collaborated as a soloist with the Helsinki Baroque Orchestra and with the "Les Musiciens du Louvre" ensemble. His albums also contain works by Luigi Boccherini, Georg Philipp Telemann and Jacques Morel and his most recent CD, dedicated to Johann Sebastian Bach's music, is the first he's ever recorded accompanied by harpsichordist Jordan Fumado, an excellent musician born in 1975, teacher at the "Padre Antonio Soler" Conservatory in Madrid, who has had amazing collaborations with artists such as Jordi Savall, Sir Neville Marriner and Rafael Frühbeck de Burgos.
Larisa Clempuº