Disk of 2017 > Jazz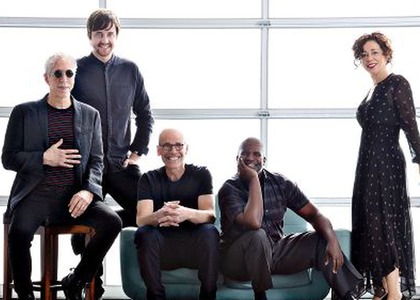 'The Yellowjackets': the album 'Raising our Voice' – Jazzy Hour, the 13th of December, 2018
Monday, 4 February 2019 , ora 10.45

As an ensemble with a relatively consistent style, Yellowjackets, a Californian combo, managed to shape its own sound, an unusual style of jazz, from their very beginning in 1981. Their discography shows a constant openness to new sounds and sources of inspiration, building a tradition of real aesthetics based on impeccable instrumental technique. Furthermore, old time members Russell Ferrante, Bob Mintzer and Will Kennedy are the embodiment of the world's musical elite. Yellowjackets' advantage has always been the composition, the fusion between electric and acoustic, modern punctuation and the friendly subtlety of interpretation.
In 2018, ΄Raising Our Voice΄ was released. It was the perfect platform for new original compositions, shared harmoniously, taking into consideration the composing talent of all members, a cross-cut between electronic interludes, demonstrating another essential advantage of the band - being able to keep up with the times. The presence of the remarkable soloist Luciana Souza only amplifies the endless musical possibilities. Some older songs from the Yellowjackets' repertoire were rearranged especially for her.
Of the original band established in 1977 only Ferrante remains, but the band's musical wealth gained in 30 albums and thousands of concerts is extended with the support of wonderful artists. This is the why the name Yellowjackets will always be associated with outstanding sound.
Berti Barbera
Translated by Nițu Diana-Alexandra,
MTTLC 2, University of Bucharest