Successful music stories with Monica Isăcescu and Ștefan Costache
Interview with the viol player Vlad Bogdanas
Sunday, 28 February 2010 , 10.30
On the last day of February, we will be presenting you a few pages of a story, the first pages of a story, because the guest of today's show is a young musician, at the beginning of his career, but who has already had his first moments of success.

You need Flash player 8 or newer to listen to this clip.
Interview with the violonist Sarah Chang (II)
Sunday, 31 January 2010 , 10.30
| | |
| --- | --- |
| | Former wonder children are generally regarded with a certain reserve, due to the numerous cases when they haven't proven much over time, and the huge effort made in their childhood led to tragic endings for the little artists. When adults, wonder children often turn into a shadow of their early glory or they completely disappear from public memory. Fortunately, this is not true for American violinist of Korean originSarah Chang, who continues to surprise her audience long after having passed the childhood border. |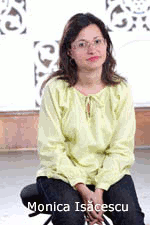 99% perspiration and 1% inspiration: this is the "key" to success in George Enescu's view. But do these percentages apply when it comes to drafting a formula for celebrity? Or are they affected by tiny little elements like chance, haphazard, the opportunity of meeting the right teachers or of being in the right place at the right time?

We have asked ourselves these questions in an attempt to find out more about the people who have been very successful performing on many stages across the globe, be they Romanian born or foreign. We wanted to find out how they plotted their own ascension, how each perceived music, what was the motivation behind some of their choices, who did they appreciate from a musical point of view etc. We are glad to report that our curiosity paid off.

If you also want to find out how the musical soirees went on in the privacy of violin player Ion Voicu's home, why does piano player Murray Perahia analyze his works using Heinrich Schenker's method, what did the members of the "Enescu" quartet learn from Sergiu Celibidache, what kind of pianos does Elisabeth Leonskaja like to perform on and many many other interesting things, tune in! You will also discover that we have as interlocutors Christian Zaccharias, Vladimir Ashkenazy, Yuri Temirkanov, Joshua Bell and many others. All this and much more each Sunday from 10.30 AM.

You can e-mail us at povesti@radioromania.ro.
Monica Isăcescu and Ștefan Costache
Translated by Translated by Iulian Arabagiu
MA student, MTTLC, Bucharest University