Radio Concert Season with Sorina Goia și Sebastian Crăciun
National Radio Orchestra - live broadcast
Friday, 8 June 2012 , 19.00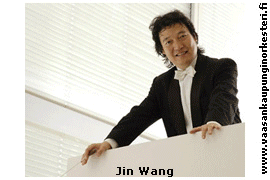 The concert of the National Radio Orchestra on Friday, 8 June 2012, at 19.00 will have as soloist flutist Matei Ioachimescu, presently living in Vienna. At the conducting desk will be Jim Wang, known by music lovers thanks to the successful concerts that he holds in Bucharest periodically.
The programme will start with Le carnaval romain, ouverture pour orchestre, op. 9 by Hector Berlioz, afterwards we will listen to Concert pentru flaut si orchestră by Călin Ioachimescu, having as soloist Matei Ioachimescu; thus, father and son meet on the stage of the Radio Hall. In the second part of the programme will be performed orchestra suites 1 and 2 from ballet Daphnis et Chloé by Maurice Ravel, with the participation of the Radio Academic Chorus, led by Dan Mihai Goia.
Flutist Matei Ioachimescu is one of the most refined musicians of his generation. Born in Bucharest, in a family with a rich musical tradition, he studied flute at the famous Universität für Musik und Darstellende Kunst in Vienna, that he graduated from summa cum laude at the soloist class of the renowned professor Barbara Gisler Haase, and he perfected with famous professors Pierre-Yves Artaud, Heidi Peter Indermühle and Renate Armin-Greiss. He is Magister Artium at the University in Vienna, artist of the Yehudi Menuhin Foundation in Vienna and winner of many international awards and scholarships.
Between 2003 and 2010 he was a member of the George Enescu Philharmonic in Bucharest. His special technique, combined with ebullient musical passion, recommend Matei Ioachimescu as soloist and member of many chamber bands on the important stages in the country and around the world, such as Konzerthaus Wien, the Romanian Athenaeum in Bucharest or Tokyo Suntory Hall.
The distinguished musician and conductor, Jin Wang, won his reputation through his exceptional talent. He perfected in conducting the orchestra at the Beijing Conservatory and then at the Academy Music in Vienna. Jin Wang had the opportunity to study with renowned maestros of the baton among who are: Leopold Hager, Václav Neumann, Péter Eötvös, R. Österreicher, Zubin Mehta and Leonard Bernstein.
Jin Wang had great success and received many awards within international competitions of which we remind of: Fittelberg in Poland, 20th century Music in Austria, Budapest Television in Hungary, Dinu Minulescu in Romania, Spring in Prague in the Czech Republic, Nikolai Malko in Denmark, Arturo Toscanini in Italy. He was at the desk of prestigious orchestras such as: Radio Symphony Orchestra in Berlin, Royal Philharmonic Orchestra in London, Toscanini Orchestra in Italy, National Orchestra of China, Seoul Philharmonic, Symphony Orchestra in Singapore, Yomiuri Symphony Orchestra in Tokyo, collaborating with ensembles of the same genre in Prague, Stockholm, Bergen, Copenhagen and Berlin.

Translated by Anca Pavel
MTTLC, Bucharest University