Arietta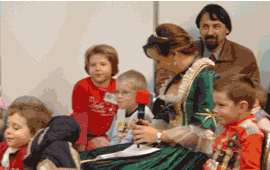 Who am I?


It's a bit difficult to tell you about my but I shall give it a try. I am an elf, just like Pocchettina. I would very much like to have more time to study because I know just as much as she does, but my time is very precious as I have a lot of things to do. I really love music (just as all elves do) but I can't listen to it like Pocchettina does. I like only listening to music, without thinking whether the oboe began to play of if the first theme is mirrored or the end of the fourth part is a stretto. Isn't it quite tiresome? Music should be enjoyed, not dissected.
What do I do?


I am very busy selecting dresses and matching jewelry. It's tiresome when you have to get all dressed up for an event and not finding the right attire. For instance, I had a difficult time putting together a proper attire for that time when I was a presenter and a member of the jury for a contest in the Enchanted Forest. I just couldn't decide: the pink dress or the green one. Don't you remember that contest? The participants had to discover various components of several musical instruments (I believe there were blowing instruments made of brass) and then assemble them as fast as possible.
I also enjoy painting very much. I think you remember that I painted the nicest paintings when Tone Tinytone had the Magic Ring and he was able to use the images in the paintings to alter the world around him. That was so nice! I believe I used Antonio Vivaldi's music at that time.
What are my hobbies?
Well, you will never guess. I just love castles. I like to find out more and more about them by going to the library and browsing through old books. Only there I can find out what I am interested in: the castles' interiors, the style in which they were built, how many balls you could throw etc. Next, I am interested in what music was played at the parties that were held in that particular castle and how were the ladies dressed. I would love to visit a castle form Johann Sebastian Bach or Georg Friedrich Handel's time, but I think I would also settle for a castle from Wolfgang Amadeus Mozart or Joseph Haydn's time.
Translated by: Iulian Arabagiu
MA student, MTTLC, Bucharest University