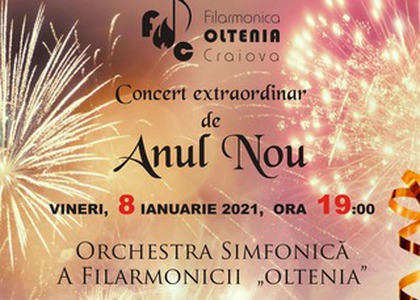 Sensational New Year's Concert with Craiova 'Oltenia' Philharmonic Orchestra
Thursday, 7 January 2021 , ora 10.17

Craiova "Oltenia" Philharmonic Orchestra invites you to the Sensational New Year's Concert, conducted by DUMITRU CRCIUMARU. It takes places on Friday, January 8th, 2021, from 7 P.M., at the desk of the Symphony Orchestra. The program includes polkas and waltzes by Johann Strauss-son, Piotr Ilyich Tchaikovsky, Aram Haciaturian and Leroy Anderson.

The concert is open to the public, with the limitation of seats to a maximum of 120 people. Everything is in compliance with medical safety measures: music lovers' access will be made on separate input-output circuits, the temperature will be measured, there will be hand disinfection, wearing a face mask is compulsory and physical distance should be of at least 2 meters between spectators. The tickets have a single price of 50 lei. They can be purchased from the Philharmonic agency. It is located on Calea Unirii, No. 16. The tickets can be bought from Monday to Friday, between 10:00 and 18:00 or they can be booked, calling the following phone number: 0251.414.698.

The schedule:
Johann Strauss-the son: The Waltz "Voices of Spring", op. 410
Polca "On the Hunt", op. 373
Polka "The Train of Pleasure", op. 281
Hungarian Polka, op. 332
"Annen-Polka", op. 117
Polka "Thunder and Lightning", op. 324
"The Gallop of the Bandits", op. 378
"Tritsch-Tratsch" Polka, op. 214
The "Blue Danube" waltz, op. 314
Piotr Ilyich Tchaikovsky: Waltz from the ballet "Sleeping Beauty"
The waltz of flowers from the ballet "The Nutcracker"
"Trepak" and "Sweet Fairy" dances from the ballet "The Nutcracker"
Aram Haciaturian: Waltz from the "Masquerade"
Leroy Anderson: "Pizzicato Jazz"

Translated by Oacheșu Ioana,
University of Bucharest, Faculty of Foreign Languages and Literatures, MTTLC, year I
Corrected by Silvia Petrescu