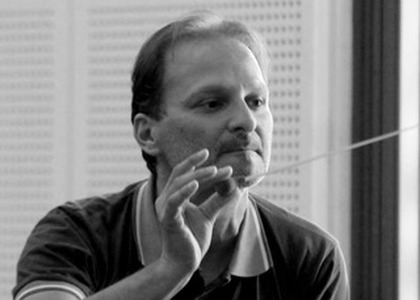 ROSSINI, under the Italian conductor DAVID CRESCENZI's baton, LIVE from THE RADIO HALL!
Thursday, 18 February 2021 , ora 15.13

A vivacious music, "bubbly", is what Rossini left to us, the famous Italian opera composer, author of masterpieces such as "Barber of Seville" or "La Cenerentola" ("Cinderella"). "The excitement must be the base and purpose of this art [music]. Simple melody and clear rhythm" -that's how the great Italian musician defined his art.
We'll enjoy the creation of the composer born in Pesaro in the interpretation of the National Radio Orchestra and under the Italian musician DAVID CRESCENZI's baton. Currently a guest conductor of the Düsseldorf Opera (Germany) and artistic director of the Romanian National Opera from Cluj-Napoca, David Crescenzistudied music at the Conservatory from Rossini's hometown!
In the concert broadcasted LIVE from THE RADIO HALL on Friday, the 19th of February (7 p.m.), you will hear 3 overtures by ROSSINI from Mr. Bruschino, The Marriage Contract and The Silken Ladder.
The evening will end with the last symphony composed by MOZART, considered to be one of the most beautiful symphonies of the musical classicism: The Symphony No. 41 - Jupiter, created by Amadeus in the summer of 1788.
Pianist, orchestra and choir conductor, David Crescenzi began studying at the Pesaro Conservatory, subsequently specializing in orchestral instruments, piano, choral music and choral conducting. Among his most significant accomplishments we need to mention the collaboration with the Opera Theatre from Cairo, Egypt, as guest conductor (1998 - 2003). At Doha, in Qatar, he conducted three times: in 2002 the Aida opera by Verdi, in 2003 Ibn Sina by Michiel Borstlap, and in 2005 Aspire by David Krane, with the occasion of the Asian Olimpic Games opening. He was named artistic director and chief conductor of the Cairo Opera in September 2014.
In September 2007 he participated with the Romanian National Opera from Timișoara at the George Enescu International Festival - Bucharest. In January 2012 he toured in Germany and France with Bergische Symphoniker, in the same year he collaborated with the Rio de Janeiro Opera and conducted at the Solothurn Festival - Switzerland.
The concert will be broadcasted LIVE -on all Radio România Cultural and Radio România Muzical frequencies - in live streaming on the internet, on the sites www.radioromaniacultural.ro and www.romania-muzical.ro and on the Orchestrele, Corurile Radio and Radio România Muzical FACEBOOK pages.
For more information on the Orchestras and Radio Choirs please access the site www.orchestreradio.ro.

Translated by Codescu Paula-Silvia,
University of Bucharest, Faculty of Foreign Languages and Literatures, MTTLC, year I
Corrected by Silvia Petrescu