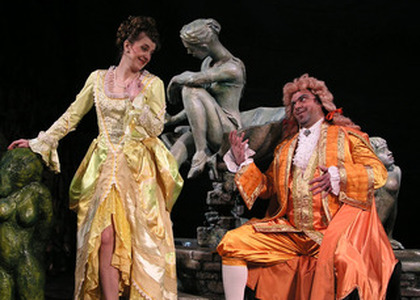 'Don Pasquale', the first on-stage performance of this year
Friday, 19 February 2021 , ora 15.16

The Brașov Opera House is inviting you on Saturday, February 20th 2021, at 18.30 o'clock, in "Sala Operei" hall, to enjoy iconic moments from the opera buffa"Don Pasquale", by Gaetano Donizetti. The opera was performed for the first time in history on January 3rd 1843, at the "Ventadour Salle"from the ThéâtreItalienin Paris, and it enjoyed tremendous success. "Don Pasquale" is considered to be a masterpiece of its genre, being one of the most popular piece out of 66 Donizetti has written, as well as one of the most popular Italian comic operas, the others being "The Barber of Seville", by G. Rossini, and "L'elisird'amore", also by Donizetti.
"Don Pasquale" premiered in Italy at La Scala, in Milano, on April 17th 1843; the first performance in Vienna was at Kärtnertortheaterone month later, a production in which Donizetti himself took part. In England, the opera was presented for the first time on June 29th 1843, at Her Majesty's Theatre, in London.
Donizetti composed a brilliant opera, which was engaging for the audience, but very difficult for its performers, both from the point of view of vocal performance, and dramatic performance, for the soloists. The action in "Don Pasquale" takes place in Rome, in the middle of the 19th century. This comic opera has a theme which is always current: inappropriate marriage: an old, rich and lonely man decides to get married, his wife having to possess two qualities - beauty and, above all, youth. The humorous things that happen, and the farce in which he is caught, serve to bring Don Pasquale back to earth: every age has its beauty.
Distribution: Dan Popescu - Don Pasquale, Nicoleta Chirilă - Norina, Adrian Mărcan - Dr.Malatesta, LiviuIftene - Ernesto, Cristina Roșu- Notary, Mihaela Pop - Statue. The Orchestra and the Choir of the BrașovOpera House shall lend their assistance. Maestro MirceaHoliartoc shall lead as conductor. Artistic direction byCristianMihăilescu. Scenography: RodicaGarștea. Choir conductor: Dragoș-MihaiCohal. Performance coordinator: Anda Tabacaru. Assistant stage director: Ramona Mezei. Stage director: Dan Antipa.
Ticket price: 30 lei
Duration: approximately 1 hour 30 minutes, no break
Tickets are being sold since Monday, February 15th 2021, both online, on the website www.bilet.ro, and at the ticket office of theBrașovOpera house - str. BisericiiRomâne nr. 51. For more information, phone: 0268/419.380.
Ticket office schedule: Monday - Friday 10 - 17 and one hour before the performance beings (as long as there are still tickets available).
Children can access opera and operetta performances starting with the age of seven!
Number of seats available: 110.

Translated by Teliban Cătălina-Diana,
University of Bucharest, Faculty of Foreign Languages and Literatures, MTTLC, Year II
Corrected by Silvia Petrescu