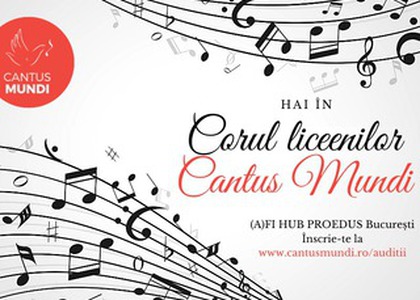 Cantus Mundi invites young people from Bucharest to enroll in "The high school students' choir "
Tuesday, 23 February 2021 , ora 18.45

The National Programme "Cantus Mundi Romania" has just launched the enrollements for auditions targeting participation in a new musical and artistic activity dedicated to teenagers - "The high school students' choir Cantus Mundi".
The coral workshop is free of charge and is addressed to high scholars from Bucharest and the surrounding areas, who are found of music, musical education and performance arts.
Both the auditions and the rehearsals of the new ensemble will be guided and conducted by Cezar-Mihail Verlan, the assistant conductor of the National Chorus "Madrigal - Marin Constantin", and will take place at A(Fi) HUB PROEDUS, the biggest educational hub in Bucharest, which is situated at the entrance of AFI Cotroceni.
The Chorus of the high-schoolers "Cantus Mundi" will address a modern and broad-range repertory, which will also include great musical productions realized in partnership with performance institutions in Bucharest.
The enrollements for the auditions are made by filling in the online application form, which can be found on https://cantusmundi.ro/auditii, the category Choir auditions.
During the pre-selection, the candidates will perform a song of their own choice, individually, with or without lyrics and will also take a hearing and musical rhythm test.
The logistics information regarding the schedule and the organization of the auditions will be communicated in due time to those who have been registered.
The auditions for the chorus workshop, as well as the bi-weekly rehearsals, will be conducted in compliance with all the official sanitary rules ensuring the health security of all the competitors involved in this process.

Translated by Petre Mihai,
University of Bucharest, Faculty of Foreign Languages and Literatures, MTTLC, year I
Corrected by Silvia Petrescu