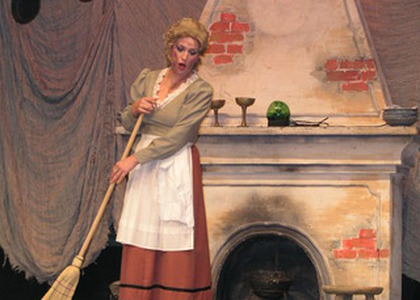 "La Cenerentola", the fairytale within an opera
Wednesday, 7 April 2021 , ora 16.57

Saturday, the 10th of April 2021, at 6:30 p.m., the Brasov Opera is inviting you to watch online, broadcasted live, the opera bouffe "La Cenerentola" byGioachino Rossini.
The opera was first presented at Rome, in Teatro Valle, on the 25th of January 1817. Inspired by the famous story of Charles Perrault, the composer and librettist Jacopo Ferretticreated o musical story that combines lyricism, comedy and vocal virtuosity specific to the Rossinian style. The libretto was created in 22 days and the music in just 24 days, this fast way of composing demonstrating once more, the same as in "The Barber of Sevilla", the genius and the outstanding musical inventiveness of Rossini. The first performance didn't have much success. Rossini was patient, knowing that the vitality of the score will seduce the listeners in the end. The parts being extremely well contoured keeps overall the line of the characters suggested by Perrault. The step mother and the sisters have a very powerful comic character, obviously underlined in the musical writing. The arias of the main characters are ample, with inspired melodies, and the overall scenes of the final acts are especially complex, but charming at the same time, created in the well-known Rossinian style.

The distribution:
Angelina - Asineta Răducan
Don Ramiro - Liviu Iftene
Dandini - Valentin Marele
Don Magnifico - Dan Popescu
Clorinda - Valentina Mărgăraș
Tisbe - Sonia Hazarian
Alidoro - Marian Rește
Collaborating together we have the Orchestra and the Choir of the Brasov Opera. In the conductor's seat we have the master Mircea Holiartoc. The artistic direction is signed by Carmen Dobrescu. The scenography: Rodica Garștea. Conductor of the choir: Dragoș-Mihai Cohal. Direction assistant: Lăcrămioara Schuller. Assistant stage movement: Ramona Mezei. Stage direction: Silvia Papadopoulos.
The spectacle will be broadcasted live online on the Brasov Opera Facebook page and on the official YouTube channel: https://www.youtube.com/watch?v=TTTGjJ4_Cvk and it will be available for free! Furthermore, the spectacle will beneficiate of Romanian subtitle.

Translated by Codescu Paula-Silvia,
University of Bucharest, Faculty of Foreign Languages and Literatures, MTTLC, year I
Corrected by Silvia Petrescu