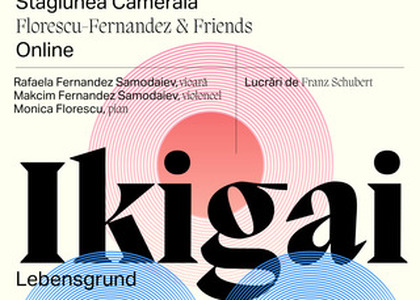 Ikigai or about the purpose of life. Concert-concept of classical music
Wednesday, 21 April 2021 , ora 15.17

What is the meaning of your existence or what is your ikigai? Three beloved artists challenge the audience to an important topic of thought through the concept-concert "Ikigai. Lebensgrund", starring violinist Rafaela Fernandez Samodaiev, cellist Makcim Fernandez Samodaiev and pianist Monica Florescu, who will perform works by Franz Schubert. The concert registered in the Hall of Mirrors of the German Sibiu Forum will be broadcast on Sunday, April 25th, at 17:00, on the Facebook page "Florescu-Fernandez & Friends".

WHAT IS IKIGAI
Ikigai is a Japanese concept that refers to a state of well-being achieved by a person when he does something with passion or when he has a purpose that fulfills it. The concept comes from the island of Okinawa (Japan), where most of the world's centenarians live.
"We owe it to ourselves to find our happiness, to find out where it is and to follow it without fear. Each of us has an ikigai that needs to be discovered. As far as we are concerned, classical music is what gives meaning to our days or maybe music and love "Because we're always changing and ikigai is something to look for every day, we thought about Sunday's concert around this concept. We want the audience to reflect on the theme we're proposing and share with us what they've discovered."Makcim Fernandez Samodaiev and Monica Florescu, co-founders of the "Florescu-Fernandez & Friends" Chamber Season.

WHO ARE THE ARTISTS
Rafaela Fernandez Samodaiev (13 years old) studies the violin as an external student of the "George Enescu" National College of Music in Bucharest with prof. Olivia Papa. She is the winner of the second prize at the National Instrumental Interpretation Olympiad, grades III-VIII, violin section from 2018. The music-loving public had the opportunity to listen to her frequently during the concerts in the "Florescu-Fernandez & Friends" Chamber Season.
Pianist Monica Florescu and cellist Makcim Fernandez Samodaiev excel in chamber music and as concert soloists, with experience over the years, in which they have created various projects, from chamber music concerts and awards for contemporary creations, to to extensive collaborations with other renowned artists in the field of classical music and interdisciplinary projects created in collaboration with ballet and theater companies.
In their artistic life, they have participated in international festivals such as Philippe Herreweghe Festival (Belgium), Steinway Festival (Belgium), Fontainebleau Festival (France), Wallonia Festival (Belgium), van Vlaanderen Festival (Belgium), XXV Festival of Contemporary Music in Havana (Cuba), "Siglo XXI" Festival (Mexico), Wuzhen International Theater Festival (China). Since 2015 they are members of the Sibiu State Philharmonic.

"FLORESCU-FERNANDEZ & FRIENDS" CAMERAL SEASON
The passion for music is the basis of the "Florescu - Fernandez & Friends" Chamber Season, a unique project in Romania, which invites the music-loving public and not only in a series of trips to inner worlds and deep emotions. The concerts of the chamber season take place monthly, in a warm and intimate atmosphere, where the music is complemented by stories told by artists for a loyal and growing audience.
The season began in 2002, in Belgium, at the initiative of cellist Makcim Fernandez Samodaiev (Cuba) and pianist Monica Florescu (Romania). Since 2015, the two musicians, who also became the "Florescu-Fernandez" family, settled in Sibiu, after studying, living and performing in various countries in Europe and Mexico for several years. Since then, the Chamber Season has been offering a series of monthly concerts in the Hall of Mirrors of the German Sibiu Forum, where guests are well-known musicians from Romania, but also from abroad. The concerts of the season also have an educational dimension, each work performed being introduced by short explanations and historical landmarks.

Translated by Alma Teodora Miron,
University of Bucharest, Faculty of Foreign Languages and Literatures, MTTLC, year I
Corrected by Silvia Petrescu