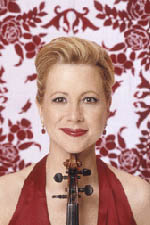 Interview with violinist Maria Bachmann
Monday, 1 September 2008 , ora 16.10

Maria Bachman is an American violinist that Philip Glass composed for, a composer with whom she has also appeared in concerts and whose works she has often interpreted. The same violinist performed the first auditions of works signed, among others, by James MacMillan and Paul Moravec; the latter won the prestigious Pulitzer Award, in 2004, for the work Tempest Fantasy, composed for Trio Solisti, founded by Maria Bachmann. In addition to Debussy, Beethoven, John Corigliano, Vivaldi and Stravinsky, her repertoire also includes George Enescu: namely, for two years, Maria Bachmann has been performing Sonata no. 3 in A minor for piano and violin dans le caractère populaire roumain, a work which she will perform again, in 2009.


How did this work come to be a part of the recital programme of Maria Bachmann?

I heard this sonata for the first time during a recital in New York, a few years ago. I liked it very much and I wanted to perform it myself, so I decided that I would start to study and perform it myself. So, Sonata no. 3 is now part of my repertoire, I play it frequently and I even want to record it.


Who was performing Enescu's work when you heard it?

The violinist was Hilary Hahn, and the pianist was Nathalie Zhu.


Would you say that Sonata no. 3 dans le caractère populaire roumain, is in any way different from the other pieces of the classical music repertoire of the approximately same period?

Yes, it is indeed a special work. I think that here, Enescu has managed to integrate elements of the Romanian traditional idiom very well: this music sounds very traditional, but in fact it only gives the impression of folk music, because the motives are in fact original, and, at the same time, it is full of feeling, of spirituality.


It is obvious that you have done some research before performing Enescu's Sonata!

Yes, I even listened to a large number of recordings of this work, but also of other works of his: the other sonatas for violin and piano, the Octet - which I particularly liked and which I believe is a masterpiece. All of Enescu's music is very appealing to me; it has something very alluring in it! At the same time the profound emotional content is very obvious; moreover, the world of sound is so unusual, having a special flavour, completely different.


You said that you wanted to play Enescu's Sonata no. 3 dans le caractère populaire roumain as much as you can. Did this work make you want to approach other opuses of Enescu?

Yes, I would very much like to play the Octet, his works for solo violin, as well as the other sonatas for violin and piano, which are wonderful. But, for the time being, I want to focus on the Sonata no. 3 because, as I said before, I want to record it.


When will this CD be ready?

Next autumn, along with the official release event, namely in September or October 2009.


What other plays will there be on the CD?

Besides Enescu's Sonata no. 3, I have chosen to record the posthumous Sonata by Ravel and a work written especially for me by Philip Glass; I think that these three works have a particular spirituality in common; they convey a strong feeling, they are really 'ambient musical pieces' and they will fit perfectly on my new compact-disc.


Who will be your partner for these recordings?

His name is Andrew Armstrong, he is a great concert pianist, but he also plays chamber music sometimes. He is a great team-mate.


We've talked about how you, Maria Bachmann, see Enescu's Sonata no. 3 dans le caractère populaire roumain. How did the audience receive this creation?

Oh, the reaction was completely unexpected! This sonata always manages to surprise; I believe that listeners perceive it as something exotic, especially in comparison with the standard repertoire for violin, so to say. The audience always listens carefully and in complete silence - which is to be expected because it is a very elaborate musical piece; the violin, as well as the piano part are written in connection with one another, and sometimes one feels this is genuine musical improvisation. The second movement of the Sonata is very strange, very calm: here, the violin plays mainly flageolets, so the sound is very delicate, leading to a particular state of spirit. But this entire state rebels at the climax moment and imposes a strong emotion. I would have to say that it is the third movement which reflects the traditional Romanian style the most; it is a permanent crescendo towards delirium; and towards the end the piano gives the impression that it will break under the onrush of the music, as the violin plays in fortissimo possibile! Well, after an ending like this, the audience almost stands up in applause. So, Enescu's Sonata no.3 dans le caractère populaire roumain is very good for a concert programme and I believe that its success has to do with the large variety of emotions that it describes and conveys.
Maria Monica Bojin
Translated by Carmen-Loredana Fîntîna
MA student, MTTLC, Bucharest University