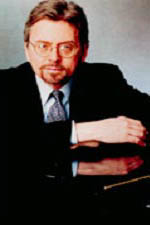 Interview with Pianist Robert McDonald
Tuesday, 28 October 2008 , ora 13.33

George Enescu is the composer who made Romanian spirituality elements recognizable outside the borders of the country. His compositions are more and more often performed throughout the world, from Australia to America, gaining appreciation from the audience as well as from performers. This is what the herein interview will prove. Along with the famous violinist Midori, American pianist Robert McDonald performed the Sonata for Violin and Piano No.3 'dans le caractère populaire roumain' by George Enescu during a recital at the 'St. Cecilia' Music Centre in Grand Rapids, Michigan, on October 28th, 2008.


Do you often include compositions by Enescu in the recitals you perform either by yourself or along with other artists?

I admire Enescu very much; the sound of his compositions is always fresh. My repertoire includes the Sonata for Violin and Piano No.3 as this is among the most well-known pieces to the American audience. Besides, I have recorded this Sonata along with Isaac Stern, and the recording is quite well-known. As a professor, I often give my students Enescu's piano works as practice assignment, and I very much like the sound of such works.


What is the impression Enescu's music has made on you?

It is the same impression that any original composer makes on me. It is always a nice surprise, regardless of the work I am listening to. His style has changed over time. He used a harmonic language that can also be heard in the compositions by other musicians, but he combined it with a unique personal touch. Thus, if I happen to turn on the radio and listen to a piece without knowing who its composer is, I can easily identify Enescu due to his style.


Enescu often travelled to the United States during his lifetime and the Americans have known how to appreciate his music. Has the situation changed? What was the reaction of the audience when you performed the Sonata for Violin and Piano 'dans le caractère populaire roumain' along with Midori?

I believe Americans love this piece very much. Not just because of the ethnic touch of the music, but because the way the two instruments interact is a sight in itself. In addition, the virtuosity element enhances the effect this sonata produces. The piece is unique among all the works by the Romanian composer. The musicians listening to it for the first time will always be impressed by its depth and by the emotional involvement that it triggers.


Is it a difficult score? And if so, why?

It is a score that is very well written for both instruments. Enescu was just as talented both as a violinist and as a pianist. He knew what he was supposed to write in each passage so that the piece should make sense. There are lots of notes and at first you have the feeling that it will be a lot harder than it really is. The overall elements, which are very complex, are the ones that are extremely challenging. It is not just about how all the elements should be gathered together. Once you have understood all the annotations in his score - which are abundant - you have a responsibility to make it all seem spontaneous. This takes a long time, as you are dealing with a discipline that means you need to meet all the indications in terms of dynamics and tempo, and then make believe that you are improvising everything as you go along.


Are Enescu's compositions often performed on American stages?

Not very often. But he is very much respected as a composer. It should be admitted that his music is not exactly accessible, and this adds to a sort of a reputation he gained - that of being a composer whose music cannot be understood from the very beginning.


What is your own opinion on Enescu?

He is a wonderful composer.
Petra Gherasim
Translated by Silvia Bratu
MA student, MTTLC, Bucharest University