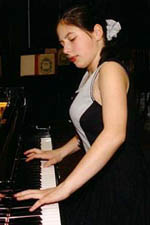 Interview with pianist Alina Elena Bercu
Saturday, 4 October 2008 , ora 13.41

On October 4th, The Dutch Foundation 'Heart for Romania' is organizing a charity concert at Roermond. Under the baton of conductor Theo Wolters, the Limburg Orchestra will perform for the audience in TheaterHotel de Oranjerie, having pianist Alina Elena Bercu as leading performer. This is not the first experience of the kind for the young musician. Ever since she was eleven, she has held a series of concerts in Indonesia in order to raise the necessary funds for surgeries for children with disabilities. She continued with recitals in hospitals and homes for the elderly in Romania, Germany, and now, she is involved in the project about which she has agreed to speak for our Music Info Bulletin.


How did this event appear on your agenda and what is the actual purpose of this charity affair?

My collaboration with maestro Theo Wolters, with whom I will be holding the concert, began approximately six years ago, when I played in Cluj Napoca, and we have been on very good terms ever since. He invited me to perform with him in a concert in the 'Sibiu, European capital of culture' programme; after that, I went on a tour in Luxembourg and the Netherlands. Subsequently, this proposal came. The purpose of this concert is to raise funds for building a school for the blind children of Sibiu. It is a great honour for me to be able to help with this project, for which I will be performing Mozart's Concerto in A major KV488, along with the Limburg Orchestra.


This is not your first charity concert. How would you explain your interest for these kinds of projects?

I like very much to give, to help. I myself was given some help at one point and I feel wonderful to be able to give some in turn. You attend both the courses of Andrei Saguna National College in Brasov and those of Franz Liszt University in Weimar.


What stage are you in?

I am in the 12th grade in Brasov. I have a hard year, because I have to attend my baccalaureate exam. I have all the support I need from my teachers and my colleagues. When I am in Germany they send me homework, lessons, practically everything that I need in order to keep up. I would really want to use this opportunity to thank my teachers for all these years in which they have helped, supported and encouraged me. I have had all their support, which has allowed me to continue this journey which I embarked on several years ago. In Germany I am in my second year, which I will graduate in February with a series of exams for the 'Vordiplom'. This is a sort of pre-diploma, which can be obtained after the first eight semesters; only at the end of the four years will I receive a full diploma.


Together with Marie-Ange Bozzini, your colleague at Franz Liszt University in Weimar, you founded a duo -'Piano Doble'. What projects are you involved in?

We are a very young duo. We have started working together only recently, but we have been very encouraged so far. We are preparing a programme for two pianos. In the season that has just ended we presented a four hands programme, but now we want to return to our initial programme for two pianos. In January 2009 we will be playing in Geneva. I enjoy chamber music very much and especially chamber music in this formula, having as partner my favourite instrument - the piano.
Monica Isacescu
Translated by Ioana Petrescu
MA student, MTTLC, Bucharest University