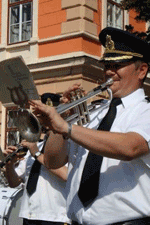 Army in concert at the Radio Hall
Thursday, 24 February 2011 , ora 10.06

Whenever we say "army" we automatically think about toughness, discipline, strictness, notions that have nothing to do with art but as any appearance this too is deceiving. Music asks for rigour and discipline, qualities you will notice when listening to Army's Representative Orchestra, who opens this year's season with a concert at the Radio Hall on February 24th, 2011.
I invite you to find more about this from an interview given to Radio Romania Music, by the Inspector of Military Music, Colonel Valentin Neacșu.

"On August 1st, this year, Army's Representative Orchestra celebrates 60 years of existence. This ensemble was formed after the union of Guard Regiment's Band and Guard and Protocol's Music. This was a necessary union as the Military Music had many members at that time and it needed a flagship of the Romanian military culture. This is the second year of season concerts, this being a bold project of the Army Music Representative and of the Department of Military Music. We intend to perform for our public the most valuable creations of the Romanian and universal music repertoire. These concerts have a wide opening and famous conductors who are invited alongside our orchestra to support this initiative. For the music lover public we perform music film, canzonets and arias from famous operas. Our objective is to have a dialogue with our friends and especially with the music lovers from Bucharest. We hold monthly meetings at the Radio Hall with foreign guests with a rich and attractive repertoire."
Petra Gherasim
Translated by Oana Marina Siliște and Elena Daniela Radu
MA Students, MTTLC, Bucharest University