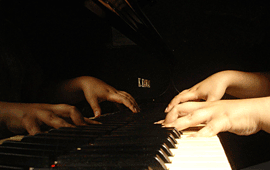 Young pianist Cadmiel Alexandru Boțac receives another award
Tuesday, 29 March 2011 , ora 11.31

Cadmiel Alexandru Boțac - 8th grade student at the Music School in Sighetu Marmației, the one who won the National Piano Contest held within the Lipatti Days Festival last November, at the young age group - won First Prize at the zonal phase of the Instrumental Interpretation and Choreography Olympics, held between March 24th and 26th in Arad.
This new success of the young musician is the reason why I invited Monica Noveanu, piano teacher at the Music High "School Sigismund Toduță" in Cluj-Napoca and member of the jury to tell us if a contest can constitute a solid foundation for a future successful career.
Cadmiel Boțac is an old acquaintance. I can say I have kept track of his evolution ever since his first years of school, when I saw him at the Bach Festival-Contest, where he made a remarkable impression. This boy had an astonishing depth in his rendering and a great severity in approaching the piano, so that it was impossible for him not to fascinate you.
Then I watched him at different national contests, where I had the opportunity to be a member of the jury - in Bucharest, Piatra-Neamț and the Olympics. He is a constant winner and I can tell that he already has an audience of his own; a devoted one - from the moment people find out he is going to participate in a contest and perform, the room is full.

What did the jury focus on regarding the evolution of this year's participants?
We focused on the accurate rendering of the musical text, the stylistic and interpretive performance, as well as the creativity of the students who participated in the contest.

What do you think is the greatest achievement from participating in such a competition for a future successful career?
Of course, every competition represents a phase, a base of selection. Those who are awarded with the First Prize definitely have a higher level which leads them to an advanced stage - the national phase of the contest. Participating in the National Olympics has the role of highlighting our country's most talented children.
Alexandra Cebuc
Translated by Dana-Mihaela Toma and Laura Bosnea
MA Student, MTTLC, Bucharest University