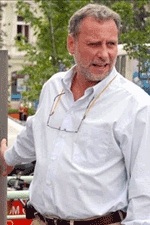 The Liszt Year at Hungarian Republic's Cultural Centre from Bucharest
Friday, 14 January 2011 , ora 8.48

In 2011 we celebrate the 200th anniversary of Franz Liszt's birth. Zoltán Bretter, the director of Hungarian Republic's Cultural Centre from Bucharest, tells us more about the plans of the institution he is managing for the Liszt year.
There are going to be many events that begin this Saturday (January 15th, 2011), with the concert of the Liszt Ferenc Chamber Orchestra from Budapest and end in December with another concert. The piano player, Érdi Tamás, who is not in Bucharest for the first time, will hold a Christmas concert, hopefully also at the Athenaeum. We are going to organize a tour and it will put an end to the series of events. During these events we shall have many concerts and a tour entitled On Liszt's footsteps. Liszt has performed with many occasions in Romania, and we are trying to repeat that tour, interpreting the composer's works, of course.

Who are the guests that you would like to include in the Liszt project?
We have many guests: I have mentioned the Liszt Ferenc Chamber Orchestra, Érdi Tamás, and also Csendes László or Elena Popa, the Hungarian Music Festival award winning pianist. She is to perform on January 20th, covering also plays by Liszt.

Do you have partners, for this project, from other Hungarian institutes or from other countries?
Of course we do. The Liszt Year is an extraordinary big event in Hungary. There's already an organizing committee; also programmes and expositions. In Romania too we have many partners - like the joint event from the Athenaeum, where we present Liszt's life and work during two evenings. We have many partnerships and this is important for us.
Maria Monica Bojin
Translated by Oana Marina Siliºte and Andreea Velicu
MA Students, MTTLC, Bucharest University