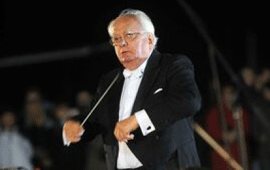 Conductor and Composer Remus Georgescu's Eightieth Anniversary
Thursday, 23 August 2012 , ora 13.06

Happy Birthday!
Thank you. I am under the impression that time has somehow accelerated its pace, its flow; it seems to pass faster and faster. I am thankful to God for allowing me to be here before you at this age. In fact, if I give it a second thought, I feel as if I'd be turning forty for the second time. I feel full of projects for the future and I must confess that, at times, I hear in my head the music that, having been misled by so many appearances in the middle of which I exhausted my life, I failed to write at the proper time. Therefore, these are, for the most part, my hopes for the future. I look ahead with confidence, and, I confess, I don't look back with nostalgia.
God has given me a life full of satisfactions and joys- both ephemeral and long-lasting. There were, of course, a lot of sorrows caused by corrupt, mediocre people whom I came across during my life, and some of them are still living. But there also were my youth years, my adulthood years, the escape from the communist hell, which has not been done to this very day; the consequences of this tragedy still exist. However, I am pleased that I managed to go all the way through this hell we haven't been able to exit just yet without hating or resenting those who have done much harm over the years or are still causing it. I said "Father, forgive them", although they did know what they were doing. I only tried to forget them, so throw them where they belong. I'm saying that these were the years of my youth and manhood, maybe the most fruitful years that also brought me many joys, personal and professional satisfactions. I have been blessed with a beautiful family, two good children, who have given me two wonderful grandchildren each.
But, above all, I am thankful to God for giving me that drop of talent, however minuscule, of living my entire life in and for music. It is a blessing to have the ability, as performer, to render to the people the music written by the great composers. Yet to be able to create music yourself, to yank out of nowhere the world of music, be it ephemeral and effervescent, which is a means of giving yourself to the people is, to my mind, the highest form of love, and the utmost happiness a man can be granted.
I don't know if my music will be played after I'm gone; what I do know is that while writing it in the peace of my study- at home or at some monastery or hotel- I was happy. It is perhaps the most authentic bliss a man can be granted.

Is there one or more of your works that represent you in a special way?
I believe all of them represent me. In fact, this is what I advise my students from the composition department or even from interpretation: to be themselves in everything they do in music. It seems like an old saying, but it is true. A stage performance during which you can't feel the person, the composer or the interpreter is a mere reading of some signs on a score.
As an interpreter you offer people access to music, but the composer gives himself through his music. Therefore, I did my best to be myself in all my music, to remain faithful to myself despite the transient styles. I think that clinging on some temporary trend in art is a form of provincialism- I don't want to use harsher words. The composer must stay true to himself, if not, it's a mere technique demonstration, a play which is more or less interesting.

As a conductor, do you have a stage you feel that is special to you? An orchestra or a player with whom you collaborated?
During all those blissful moments I was talking about, I felt a connection and I had by my side the Philharmonic of Timisoara, which I've always thought of as my second home, my second family being its wonderful musicians with whom I shared for more than forty years- more than half my life so far- joys and sorrows, achievements, the applauses of the demanding public from Timisoara, Bucharest or from abroad. I am grateful to those musicians who have brought my music to life, for the joys and the wonderful memories they have offered me.
Andreea Chiselev
Translated by Valeria Anghel
MTTLC, Bucharest University