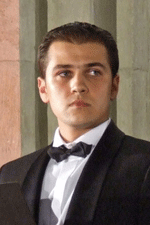 Romanian Singers Abroad - the Bass Adrian Sampetrean
Monday, 20 August 2012 , ora 9.20

In 2007, one year since graduating from the canto courses at the "Gheorghe Dima" Academy in Cluj Napoca, the bass Adrian Sampetrean became member of the Chamber Studio within the State Opera in München. During the last season, the young bass was admired performing not only on the stages of Düsseldorf and Duisburg Operas, but also on the stage of the State Opera in Hamburg in opera performances such as:
Don Giovanni
and
Cosi fan tutte
by Wolfgang Amadeus Mozart, Gioachino Rossini's
Cinderella
and
The Barber of Seville,
Giacomo Puccini's
La Bohème
,Giuseppe Verdi's
Macbeth, A Masked Ball
and
Rigoletto.
Spending a short holiday in Cluj, his hometown, Adrian Sampetrean was kind enough to tell us something about his projects.

The State Opera in Hamburg

Thank you for your kindness to give me this interview. Radio Romania Music's listeners and readers would be excited to find out what the bass Adrian Sampetrean has done lately. I would like to ask you to speak briefly about your most important appearances during the season 2011-2012.
The 2011-2012 season meant for me the start of a new commitment at the State Opera in Hamburg after my performance at the Festival of Salzburg in July - August 2011 as Leporello, a character in Mozart's Don Giovanni which was by far the most important moment in my career. During the 2011-2012 season I have been performing in Hamburg and in a few plays in Düsseldorf. In August I am going to perform in Australia in Wagner's play The Rhine Gold and in September I am going to sing again in the role of Leporello in the play called Don Giovanni at Balsoi Theater, in Moscow. The latter is the outcome of Scala Theater in Milan. Later on, in November-December I will be in several performances of Rossini's Cinderella at Garnier Opera, in Paris.

"Oberto, Conte di San Bonifacio" At Scala Theater in Milan

Your projects are scheduled until 2013.
There will be, indeed, a crucial period for me in 2013- there is this debut in Milan in April at the Scala Theater with the role of Banco in Giuseppe Verdi's Macbeth followed in May by the role of Oberto in Verdi's first work Oberto Conte di San Bonifacio. It is a great honour to perform this role at Scala, precisely when Verdi is celebrated for his 200-year birthday.

What about other roles that you would like to take in the future?
In the not too distant future I want to render more meaningful roles from Verdi's repertoire such as Filip in Don Carlo and Zaccaria in Nabucco, also Mefisto in Gounod's Faust- there was even an offer to perform Faust this season which I declined considering it was not yet the time. I can wait; I am only 29 years old.

You do have a prolific repertoire - from Mozart to Wagner and Richard Strauss.
Which role do you feel most comfortable with?
The Italian repertoire fits me the most, particularly Verdi's and Bel-Canto. Moreover, Mozart's repertoire suits me fine. My secret is: find the means to keep a balance between vocality, interpretation and musical expression, without losing any primary characteristics of the style. I sing and I will henceforth sing the German repertoire, but I am very much interested in the Italian one.

In front of a new score, do you listen to other interpretative versions? What are your landmarks?
The most significant thing for me is the work with my father- the bass Mircea Sampetrean who played the role of a professor as well as a mentor since my graduation from faculty. This is the reason why I do my best to allot one week to analyze the new role with my father. Furthermore, the audition is part of every lyrical artist's life because the most important interpreters are source of inspiration by this, a good example.

Around The Lyrical Theaters

You have been on prestigious stages; the next is the one of La Scala Theater in Milan. Where have you felt the best so far?
I place much emphasis on the background, on what happens behind the scene during the process of creation before the actual outcome. Human interaction is crucial for me because it exerts influence on the final product. Taking this into consideration, the best place to be was in Monte Carlo where the ambience was stunning. Yet, every theater where I performed is a place to be revisited with great joy and pleasure.

On what other lyric stages do you want to perform?
Like any other singer I wish - and hopefully it will come true - to perform at The Metropolitan Opera in New York. I was offered in USA the role of Raimondo in Gaetano Donizetti's play Lucia di Lammermoor at the Lyric Opera of Chicago, which is due in 2016. I would be glad to add on the list MET and, why not, Covert Garden in London.

What are the qualities to be mostly appreciated among your stage fellows? Please, name as well some of the partners with whom you have worked.
For me, honesty and humanness are the most important qualities. Human qualities are fundamental for every evolution, and they become even more significant for an artist. I can mention here the soprano Edita Gruberova who has surprised me both as an artist and as a human being. Moreover, there has been a great honour for me to join company on stage and work with Angela Gheorghiu. Apart from the professionalism lesson which I learned from her, I had the opportunity to get to know a person of great refinement. I had the joy to perform together with Angela Gheorghiu and the baritone George Petean as well, in Hamburg, in Giacomo Puccini's La Bohème. I should also mention here the tenors Vladimir Galouzin and Zoran Todorovich- artists who are models to learn from not only in the artistic or theatrical manner.

Favourite Mise-En-Scène

Which staging did you feel most comfortable with? Which do you prefer: the classic or modern ones?
I prefer the classic mise-en-scène, which doesn't necessarily mean I am against the latter. I am in favour of those which have an objective motivation. I am not fond of the staging which lacks ground and which is done just to be different than others. I don't reject the modern mise-en-scène and I should remind of Mozart's Don Giovanni in Salzburg, one of the intriguing and diverting performances I took part in. The unique setting is a forest, be this the reason why the director used a revolving stage. I should say that at first I was a little bit skeptical about the director Claus Guths' view on the character Leporello - a drug addict who was fidgety and would climb every tree or run here, there and everywhere. With the repetitions going on, I felt more and more satisfied about what was happening there: it had a reason, a meaning- a very important issue for the audience who do not need to be given the smallest shade of explanation regarding the performance.

You have been working with important conductors. From whom have you learned the most?
I had a nice and efficacious collaboration with Axel Kober - a conductor and art director at Düsseldorf Opera, a musician who empowers you on stage. I also found enormous pleasure in working with Simone Young- at the Opera of Hamburg, with whom I am going to make my first appearance in Verdi's Requiem due in 2013. I also look forward to my first collaboration with Daniel Barenboim due in October, in The Minstrel, Berlin. It will be a great cast in which I am honoured to participate: Placido Domingo, Jonas Kaufmann and Anna Netrebko.

What do you do in your spare time or between repetitions/ plays?
I enjoy practising sport, I find pleasure in every kind of music and I do my best to spend time with my family.

A thought for Radio Romania Music's listeners and readers:
One should always savour music and revel in music because it is, besides life, the most beautiful gift God gave us.
Jeanine Costache
Translated by Sorina Cimpoeru
MTTLC, Bucharest University