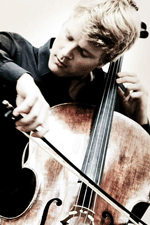 Interview with the Cellist Julian Steckel
Tuesday, 25 September 2012 , ora 9.06

In 2010 youhave won the international ARD contest in Munich. How was your carrier influenced by this award?
Many things have happened since then. I was already having a busy schedule but after the award I was contacted by many concert organisers and I was also lucky enough to appear for the first time on stages like the one in Concertgebouw. I have also met a lot of great conductors, travelled a lot, and had many concerts.
Which musicians and teachers have inspired you the most throughout the time?
On the first place there are of course my professors. I have to say that I was lucky right from the beginning for having such a good teacher. This is very important for a musician's carrier. I am talking about Ulrich Voss, with whom I studied for 10-11 years. I think he was my most important professor. I also have to mention Boris Pergamenshiko - studying with him was very special, extremely intense. I also had the great opportunity to work with Rostropovich - I believe I was 18 - and it was a very significant experience.
Do you feel a special bond with the repertoire of a certain period in music history?
It is hard to say. As a cellist, I have in my repertoire works from Bach to contemporary music and it is hard to say that the music from a particular time suits me the best. I try to attend mainly on the repertoire which I have to perform in my next concert. If I have a Bach night in my repertoire next week, I dedicate myself solely to that music. It would be hard for me to say that I like Bach the most, for example, because I perform with the same pleasure Beethoven, Haydn, Dvorak, Lutoslawski so on and so forth. I play any repertoire with great pleasure.
Besides your soloist carrier you have a rich chamber activity, by also an educational one, because you are a cellist professor at the University of Music and Theatre in Rostok. How do you manage to combine all these activities and what role do they play for you?
You have to organise your time very well. There were times in my life when I had a lot of things to do, and times when I had few activities, but I managed to deal with all of them. I now think that I have about eight concerts every month, plus the courses I teach. Your schedule must be organised carefully, or else you can't succeed. You have to take into consideration the fact that there are weeks or even months without any breaks.
In spring, for example, there were a few months when I didn't even take a day off, and in the summer I reserved a few weeks for myself, to meet with friends and relax. I have to say that this combination of chamber music soloist carrier and teacher is what I have always wanted to do. It was my dream.
Are all these activities equally important to you?
Yes, of course, in very different ways. Right now I am dedicated to the soloist carrier, but chamber music is just as important to me because I can create music with my colleagues and friends. Here comes into picture the human aspect; you don't travel alone and it is nice. Then the musical aspect, in a sonata, trio, or quartet, the musical involvement is very intense, because there is more time to rehears and to meditate upon that particular music.
When I come as a soloist in front of the orchestraI have a rehearsal, a general rehearsal, the concert and that is it. But performing solos and chamber music are just as entertaining to me. You get and incredible amount of energy through a concert. Of course, you also consume energy, but I am always under the impression that I am in a euphoric state, that I am full of energy when a concert goes well. Teaching consumes this energy and this keeps things in balance for me.
I have only been teaching for a while. Officially, for a year and a half and I have to say that I am learning many things thanks to this activity. You have to reflect but also to exteriorise your ideas. It is not only about an intuitive expression, but also about offering explanations. I also get a lot of ideas from my students and this is a very good combination for me.
You are also in Romania, in September, for a chamber concert. What did you think about the invitation to travel to Bucharest to concert alongside the Ad Libitum Quartet?
I was very happy when I had received the invitation. I have a lot of Romanian friends, most of them musicians, but I have never been in Romania and I thought that I can finally go there. I can't wait. I already have an advantage, thanks to my friends from Romania who have already told me a lot of things.
I know that there are a lot of good Romanian musicians in Germany as well, with whom I have also collaborated, so the recital in your country is something which I should have done a long time ago. To see how it is in Romania, in Bucharest. I am very glad and I am honoured to concert with the Ad Libitum Quartet. When you look in the agenda there are things which makes you happy, very happy, and less happy. This is a concert which makes me very happy and I am anxious to be in Bucharest to rehears, play, and interact with other musicians.
I am by nature a very curious and open-minded man and I am happy every time I have the opportunityto travel in a place I have never been before, when I can discover new things. This is an aspect of a musician's carrier which I enjoy very much.
Andreea Chiselev
Translated by Andrei Popescu
MTTLC, Bucharest University