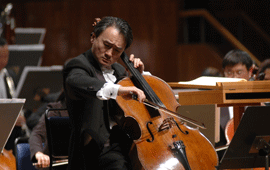 Interview with the Cellist Jian Wang
Wednesday, 26 September 2012 , ora 7.54

Interview with the Cellist Jian Wang
On 26th September, 2012, the cellist Jian Wang is/will be the soloist of the Radio France Philharmonic Orchestra conducted by Ion Marin. His international carrier began in 1979, when the violinist Isaac Stern visited China. How did he discover the young Jian Wang?
I was in primary school at the Shanghai Conservatory in 1979. During the Cultural Revolution, music wasn't at all encouraged in China, but since 1978 the music schools have been reopened, so I took the Conservatory entrance examination and they accepted me. One year later, Mister Isaac Stern came to China following an official invitation from the Chinese Ministry of Culture. 1979 was a year of change, of reformation.
As I was saying, I was a pupil at the Conservatory, and my teacher had me play for many of the people who would come to visit our institution: heads of state, politicians, musicians many times. Mister Isaac Stern had heard of me from a friend of his, who had visited our school, so when he arrived in China he asked to see me play. I performed a small recital for him and after a few minutes of playing he asked the filming crew, who was accompanying him/with him, to record me. Of course, I didn't stop playing, I went on, and so they shot a large part of my recital. Actually, they also made a movie. I don't think they started out with the intention of organising/to organise what they had caught on film in this way, but they had many good shots which they considered to be worth assembling, and made a documentary out of them. It was very successful, because it won the Oscar for the best documentary the following year. I believe it was the only time when such a film, a film which dealt with music, won this award.

Jin Wang, you are now a renowned musician, and your collaborations are not just with famous orchestras and conductors, but also with other renowned soloists. You have formed an excellent trio with the pianist Maria Joao Pires and the violinist Augustin Dumay, and you have impressed with the guitarist Goran Sollscher. Is chamber music a way to relax after the pressure of appearing in front of an orchestra? Or is it actually just as difficult to perform?
It is difficult in a different way. I have to say that in most of my concerts I perform as a soloist. I seldom perform chamber music; only at festivals or with friends. I think I have just used/uttered the key word. When you play in a small group, the atmosphere is much more intimate, friendlier, you can enjoy being with people who are your friends. For this, of course, you really have to play together with the people whom you like, exactly because you are in a small group. And the chamber repertoire is very interesting. Playing chamber music is especially pleasing, but most often I appear on stage as an orchestra soloist or in recitals.

You are coming to Bucharest with an intensive score, with Dvorak's music and his cello concert. The composer didn't want to write for this instrument, considering it unsatisfactory as a soloist instrument for many reasons. Thinking of this reserve, would you, Jian Wang, say that the result is a success? Was Dvorak's attempt to write for cello a success?
I can't tell if Dvorak himself said those words about the cello, but it is certain that some critics said it and it is true that it has been used for solos only for a while. Maybe also because initially its strings were made out of intestines, thus the sound was considered to be too faint and overshadowed by the orchestra. But the instruments have also seen the benefits of technology, from the point of view of how they are made. The cello sound became richer and the instrument more and more famous. I think that Dvorak was surprised by how wonderful his work has turned out to be, now considered as maybe one of the best cello concerts, maybe one of the best concerts overall. When Brahms heard Dvorak's piece he said: 'I now understand that I have underestimated the cello. If I had known that a concert for this instrument can sound like this, I would have written one myself.' He was also one of the people who believed that the cello wasn't good enough as a soloist. Dvorak proved to everyone how wrong they were. This is why I think that this concert is the best one ever.

You performed the first auditions of some contemporary work by Philippe Hersant or by the American composer of Chinese origin Huang Ruo. What attracts you in new music?
My indicator, to call it this way, which guides me when it comes to today's music is emotion. I listen to this music, and if I feel a thrill, I become more interested in learning more about it. I can't say that all the recently composed music attracts me; there are even works which I find horrifying, but there are also creations which move me. Everything depends on the reaction I have when I listen to a certain work. As a performer you listen, react and then you try to project this reaction and feelings given by the music, and hope that the audience feels the same emotions and responds in the same way.

You have collaborated with two Romanian conductors - Cristian Mandeal and Ion Marin. What is your connection with the musicians from Romania?
They are indeed the two orchestra maestros with whom I have recently worked. I have also heard of the late Mihaela Ursuleasa - an extraordinary pianist; actually I even heard her play because we both received an award from the same institution, and during the gala ceremony we both had a moment on stage. I played with Ion in different cities and with different orchestras quite often he is a fantastic conductor, a man with whom you can have a great collaboration. My recent encounter with Ion Marin was in Hong Kong, and with maestro Mandeal I had a concert in England two years ago, I think.

You perform with many conductors of different nationalities and numerous orchestras on several continents. In your opinion, which are the details that build a perfect team of musicians?
I think that first of all their performance must be of a certain level. We all must have a good technique, a good sound, a good mastering of the instrument. Of course, these are things which you would normally expect to see when you play with a high class orchestra. What comes after this is much harder to foresee. A live concert is very interesting exactly because the performance depends on many factors: how the performer feels in that particular day, how and if the tastes and musical ideas of every artist combine - it also depends on the public, and on the hall. Thus, live music has a touch of unpredictability, but that is why it is so exciting to play it. The moments when something totally spontaneous and unexpected appears are extraordinary, and the result is even better than it could ever be in a studio recording./than the one in a recording studio could ever be.
Maria Monica Bojin
Translated by Andrei Popescu
MTTLC, Bucharest University