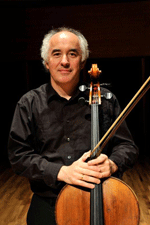 Interview with the cellist Gustav Rivinius
Tuesday, 25 September 2012 , ora 7.57

Mister Gustav Rivinius, first of all, I would like to welcome you at the International Festival of Radio Orchestras in Bucharest! In the afternoon of 24th September, you can be viewed by our audience as a member the Rivinius Piano Quartet and I believe it is your first time in our country. May I ask you what your expectations regarding this concert and our audience are?
Of course, the four of us are anxious to come back to Romaniaand Bucharest, to hold this concert. For me, personally, it will be my first time here as a musician. I have visited Bucharest before, because my wife is Romanian. She is from Bucharest and of course we have relatives here, so I have come with her a couple of times, but not as a musician. Therefore, this is my first concert here.

Now I would like to suggest talking about the works which will come together in the recital's programme; a programme with music by Schubert, Dan Dediu, Thomas Bloomenkamp and Gabriel Faure. How would you describe the structure of the programme, which is a symmetric one, so to say?
Yes, the idea was to open the concert with Schubert, because in general it is the centre piece of the festival, but also to include in the programme contemporary works both from Germany and from Romania. So, we are beginning with a piece by Schubert, the only one for a piano quartet from his creations. Schubert was actually very young when he wrote it and the work is full of lovely ideas, with a personal atmosphere, the Adagio has fantastic harmonies and the Rondo is very bright and entertaining, I'd say. Dan Dediu's work is also rather short, an extremely intense work, new for us; we are playing it for the first time because we wante to approach a Romanian work, as well. It is with great pleasure that we play this opus and we can barely wait to perform it in front of the audience for the first time. Thomas Bloomenkamp's work was written especially for us, it premiered last year, and since then we've played it several times. The work per se was inspired by the death of a very close friend of the composer, this being the atmosphere throughout the piece, especially in the second movement, very dark and full of suffering. We love this piece; I think it is a very good composition. In the last part of the concert we are going to perform a very well-known piece of the piano quartet repertoire, the one by Faure. We like playing French music, we like the French sound/tunes/rhythms. It is a typical work from this point of view, fantastic, with great harmonies and very rich sound-colours. In conclusion, I think it will be a very interesting programme, with different perspectives on the repertoire for piano quartets.

Gustav Rivinius, you are one of the winners of the 'Pyotr Ilyich Tchaikovsky' International Competition in Moscow and at the same time the first German musician who triumphed in this competition in 1990. How do you recall this experience?
For me it was a fantastic experience. I had already won other competitions and international prizes before going to Moscow. I've always wanted to take part in this competition where there is a special atmosphere; it has a great reputation. I entered, of course, hoping to be in the final and receive an award or a distinction. So I tried and evidently I didn't expect to win the first prize, but I was very happy that I did. It was an amazing experience for me.

You have also won other important distinctions: The Rostropovich Award, The ARD contest in Munich and The Mendelssohn Award. How would you define the importance of these distinctions in your evolution as an artist? Were these awards vital for international recognition? Is there another way to become famous?
I think that there are always more ways; it depends on your personality, carrier, where you develop, your family and connections, for example, if you know conductors or managers; it depends. I come from Saarbrucken, somewhere in the countryside of Germany, and I had no connections, I knew no great orchestra conductors, and for me it was a good way to get attention. Eventually, I got a good manager and this, alongside the awards from international competitions, has helped build a carrier. But this is not the only way, especially nowadays, when recording companies and talent agencies just pick someone and do all it takes for that person to have a huge carrier, although that person may not have participated in a prestigious competition. I think there are so many different ways! You can play for a well-known conductor and he can bring you to the Philharmonic in Wien, for example, and you can build a carrier this way. So there are a lot of ways to make a name for yourself, but for me, as someone who has never had any contact with the music world, all those awards represented a fantastic opportunity.

Let us remind your audience the fact that you and three of your brothers formed the Rivinius Piano Quartet in 1995. You are all remarkable musicians. Every one of you has an intense musical carrier. Mister Rivinius, would you be so kind as to describe the musical profile of your brothers and your colleagues from the Rivinius Piano Quartet?
We all have different activities; I teach at the Conservatory, appear in chamber recitals or as a soloist. My brother Paul is a fantastic pianist who can be heard throughout the world alongside with very different musical partners and he is an extraordinary musician. My other two brothers Benjamin and Siegfried play in orchestras - the first is a principal violist, and the latter a concert master. So, we all have our own activity and we enjoy playing in this piano quartet as a separate activity from our, let's say, constant professions. We are always happy when we have a concert together because we have the opportunity to meet and it's like a family reunion. But in this kind of gathering each and every one of us has his own activity: chamber, soloist, and orchestra. Our characteristic as a piano quartet is that we always change our programme, we never rehearse our works, we always learn something new, we have a diverse repertoire, we are always looking for new works and we don't get stuck in a rut by rehearsing the same programme for safety reasons. This is what makes working together so interesting.
Ștefan Costache
Translated by Andrei Popescu
MTTLC, Bucharest University