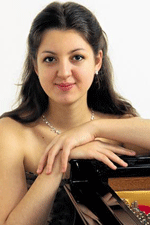 Young Romanians Who Honourably Represent Us
Wednesday, 10 October 2012 , ora 9.57

Currently, pianist
Alexandra Dariescu
has a busy schedule in London as well as other major world cities. Below, we are presenting you a short interview given by the young pianist to our London correspondent,
Dan Vasiliu
:
At the age of nine, she made her debut as a soloist alongside the Chișinău Symphony Orchestra, two years later she started to win her first international awards, and a scholarship won during the ninth grade helped her enter Pocklington School in Great Britain.
'Very important doors opened for me once I came here. I found it very easy to adjust, as I was only seventeen at the time. If I had come for a master's degree or later, it would probably have been a little harder for me. However, as I was in high school, not at the Conservatoire, they shaped me according to the British style', Alexandra Dariescu says.
Alexandra was then advised to go to a pre-selection at the Royal Northern College of Music in Manchester, the forty-pound registration fee being paid by her History teacher.
'I was auditioned by the Head of Department, who asked me, "Do you mind if someone else auditions you, as well?". And so, Karol Presland, another very important teacher from this college, came to audition me and then she asked me, "Do you mind if the Conservatoire Principal auditions you, as well?". I said no, of course, and I played again. At the end, they told me they would very much like me to study there', Alexandra Dariescu says.
She graduated first in her class and went on to do a master's degree at Guildhall School of Music and Drama, in the meantime continuing to win prestigious awards, such as the one awarded by the 'Maurice Ravel' Academy. The BBC has described her as 'a rising star', and she is invited to play alongside the world's greatest orchestras in some of the most famous concert halls, such as Carnegie Hall in New York.
'I very much enjoy the fact that they always call me "the young Romanian pianist", because we have an incredible history in what regards the world of the piano, and so many people exclaim, when I tell them that I come from Romania, "Oh! You have Dinu Lipatti, and Radu Lupu, and Clara Haskil!" This is an immense joy and a huge honour', Alexandra Dariescu says.
She has also been invited to perform at the Royal Albert Hall in London next year, a place where only the most talented artists go. However, she hardly receives any invitations to perform in Romania. Why is that?
'That's a good question. I have no idea why this happens! Probably because the time has not yet come for me to perform at home. Since I left in 2004, I have only given one concert last year, for the TVR Iasi regional studio. Otherwise, it would be a great pleasure for me, so when they invite me, I shall be delighted to come. I think that performing at home is the most beautiful thing.'

Translated by Cristina Firoiu
MTTLC graduate, Bucharest University