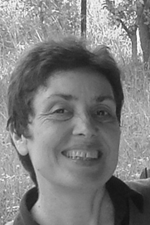 Composer Portrait - Concert Dana Cristina Probst, in the Capital of Austria
Monday, 8 October 2012 , ora 10.05

Dana Cristina Probst's name - a composer who completed her studies under the guidance of some of the great Romanian music representatives from the second half of the 20
th
century, like Anatol Vieru, Aurel Stroe and Ștefan Niculescu - is currently one of the frequently spoken Romanian names in Wien's cultural life. The recognition which the musician enjoys in the capital of Austria is a reality - her works can be heard on concerts stages in Germany, Great Britain, Italy, Lithuania, Austria and Romania. The most recent proof to this matter is the composer portrait - concert which was organised by the Austrian National Library in her honour, and she has granted us an interview on this occasion.
On 8th October, a composer portrait - concert in your honour took place in The Austrian National Library in Wien. How did you receive this invitation from the institute?
The Austrian National Library is organising a cycle of composer portraits - between two and four a year. I was also invited to offer a portrait and to play in a concert moderated by someone else. I scheduled several works in this concert, amongst which a work by my former composition professor, Anatol Vieru, as a tribute to himself, especially because Anatol Vieru's works are not really known in Wien.
How did you structure the programme of this concert?
The programme was composed of five works. Firstly, at the concerto, the bass-baritone Sorin Coliban participated - he is well known by the Austrian and Romanian audience - who performed two works: a piece of mine called In Place of Light and a work by Anatol Vieru, namely the monody from the opera Iona- a fragment taken from the opera by Anatol Vieru himself and written for clarinet and voice. Besides these two works there are three more: a Trio written by myself in 1989, before the changes which took place in Romania during that year; a trio called Smooth Light, inspired by how people sang at the evening service, and two more works - one for flute solo Et une Fluteand a first audition called Maître du Marteau. These last two works are part of a project which began in 2007, as a tribute to Constantin Brâncuși. The project was presented in first audition in Wien - in December 2007, 50 years since the death of Brâncuși. I wanted the Romanian sculptor to be present in this portrait. For me, he is the artist who has achieved a synthesis at an international level, which I believe no other Romanian has achieved so far.
You have mentioned earlier your collaboration with Sorin Coliban. How did this collaboration come to be?
I have never collaborated with Sorin Coliban until now. I have to admit that it was by accident - actually, an Austrian musician was supposed to sing in his place, but he couldn't take part in preparing the concerto. Then I sat down and thought about what I could do to bring an Austrian singer, because Vieru's work happened to be translated into German. Then I asked myself how it would be to present to the Austrian audience Vieru's work in the original, in Romanian, and so I had to search for a Romanian musician. There are many Romanian musicians in Wien - the question was if Sorin Coliban had enough experience in the field of contemporary music. That is why, I approached him, and he was very receptive. Sorin Coliban has interpreted contemporary opera music fairly often recently, so the beginning of the collaboration with him is, I believe, a good omen. Sorin Coliban can also sing contemporary music, not only romantic operas, and if time and the heads of the Wien Opera allow it, maybe we will also collaborate with other composers in the future.
Alexandra Cebuc
Translated by Andrei Popescu
MTTLC, Bucharest University